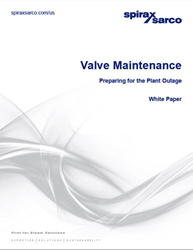 Blythewood, South Carolina (PRWEB) October 10, 2014
Spirax Sarco, the leader in products and services for steam system solutions has released its latest White Paper entitled "Valve Maintenance – Preparing for the Plant Outage" which explains the recommended methodology for the planning, performing and reporting valve maintenance during a successful plant outage.
As production and utility plant areas prepare for upcoming maintenance turnarounds (TAR), outages, and shut-downs, effective planning can save time and curtail expenses associated with the testing, repair, and replacement of control valves within the plant's total valve population. Effective planning is also a key component to smoothly managing both internal maintenance employees and externally contracted technicians that will be performing the work. Manpower resources make up a large portion of the total expenses associated with the outage so organization becomes just as important as those planning processes.
The paper will be of interest to industries that have a control valve population – including healthcare, food and beverage, chemical processing, oil and petrochemical and institutional markets that perform plant outages for scheduled maintenance.
###
About Spirax Sarco, Inc.
Spirax Sarco is the world leader in steam system management. The Company provides a broad range of fluid control products, engineered packages, systems expertise and site services for its diverse range of over 100,000 industrial and institutional customers. The Company helps its customers to optimize production capacity, reduce energy costs and emissions, improve product quality and enhance the safety of their operations. Spirax Sarco has strategically located manufacturing plants around the world and employs approximately 4,700 people, of whom around 1,300 are direct sales and service engineers. Further information can be found at http://www.spiraxsarco.com/us.