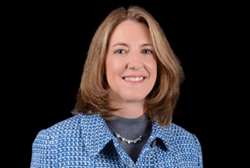 Atlanta, GA (PRWEB) October 09, 2014
Gables Residential, a leader in the management and development of multifamily apartment communities, recently promoted Ashley Tewell to Senior Vice President, Accounting and Asset Management. She will oversee both departments on a national basis. Ashley previously served as VP of Tax and Finance and has had a career with Gables for over 16 years.
Prior to joining Gables, Ashley was a Manager in the real estate tax practice of Arthur Andersen LLP. Ashley is also a Certified Public Accountant and a graduate of the University of North Carolina, with a MS in Accounting.
Dawn Severt, Chief Financial Officer commented, "Ashley continues to demonstrate leadership and expertise in multiple disciplines that are of significant value to our organization. Ashley takes a thorough approach to problem solving and has been a thought leader at Gables for years. It is always a privilege to promote those that exemplify hard work and dedication while continuing our mission of "Taking Care of the Way People Live".
###
About Gables Residential
Gables Residential is an award winning, vertically integrated real estate company and privately held REIT specializing in the development, construction, ownership, acquisition, financing and management of multifamily and mixed-use communities. Gables Residential owns, develops and manages communities in high growth markets throughout the United States including Atlanta, Austin, Boston, Dallas, Denver, Houston, South Florida, Southern California and metropolitan Washington, D.C. Additionally, we have third party management operations in the New York, Virginia Beach, Phoenix, Seattle, San Antonio, Charlotte, Central and North Florida markets.
Gables manages approximately 35,000 apartment homes and 400,000 square feet of retail space and has received national recognition for excellence in development, management, sales, marketing, training, benefits and corporate accommodations. These achievements reflect the impact of our experienced and dedicated team members, our superior knowledge of the markets served, and expertise in development and management.