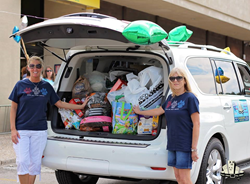 "Who knew that the community would be so generous and fill up the SUV almost two times within the first hour of our event?" Joette White, President of Park Cities Pet Sitter
Dallas, Texas (PRWEB) October 08, 2014
On September 27th, 2014, Park Cities Pet Sitter hosted a "Stuff-the-SUV" Event at the Pet Supplies Plus location at 6060 E. Mockingbird Lane in Dallas that netted $8600 in donations for Dallas street dog rescue group, Duck Team 6. The pet supply drive was part of Park Cities Pet Sitter's and NAPPS' Presents 4 Pets supply donation drive that coincides with the Humane Society of the United States' Animal Shelter Appreciation Week, which is observed November 2nd through 8th, 2014.
From 11am to 4pm, Park Cities Pet Sitter team members and volunteers from Duck Team 6 solicited donations of pet food, treats, leashes, pet beds, collars, and toys. Pet Supplies Plus shoppers, Duck Team 6 social media followers, and clients and employees of Park Cities Pet Sitter all brought donations to help stuff the Infiniti QX80 SUV donated for the day by Sewell Infiniti of Dallas.
Within the first hour of the event, two noteworthy donations managed to completely stuff the SUV to the brim. The first was from a young girl, about 10 years old, who had just celebrated her birthday. She and her mother drove up with the entire cargo area of their vehicle full of pet supplies. The young girl had asked that all of her friends give pet supplies as gifts for her birthday this year so that she could donate them to charity. She chose Duck Team 6 as the recipient of the pet supplies, and was dropping off the giant group of "presents" at the weekend's event.
Desiree Brafford, Event Coordinator for Duck Team 6, was stunned to see the huge group of pet supplies, and even more so when she learned that they came from such a young girl. "It really brought tears to my eyes to see this little girl's generosity. We were so impressed to see what a huge heart she clearly had for animals," said Ms. Brafford.
Almost immediately after the young girl's pet supplies had been moved into the Sewell Infiniti QX80, another donor pulled up her vehicle with 54 dog beds inside to donate for the event. The donor was from Sachse and follows Duck Team 6 via social media. When she saw that Kroger had put their dog beds on sale soon after she had read about the "Stuff-the-SUV" event, she bought every last dog bed that the store had, and drove them across town to donate. Park Cities Pet Sitter staff and Duck Team 6 volunteers were stunned to see the incredibly generous donation, and were thrilled to help unload the new dog beds.
Park Cities Pet Sitter President, Joette White, was practically speechless at the amazing back-to-back large donations. "When we saw all of the dog beds that were in that vehicle, we just couldn't believe it. We had literally almost filled the SUV already a moment earlier, and the event had only been going on for 30 minutes! Who knew that the community would be so generous and fill up the SUV almost two times within the first hour of our event? It was simply incredible to witness, and it was a huge privilege to be a part of it," said Ms. White.
By the end of the afternoon, the SUV had been filled three times with over 1000lbs of dry food, 143 collars and 58 dog beds. Approximately $570 in cash and gift cards had also been donated, along with $8100 worth of pet supplies.
Park Cities Pet Sitter is accepting donations for Presents for Pets and Duck Team 6 through November 8th at 5831 McCommas Blvd. Donations can be accepted there Monday through Friday, between the hours of 10am to 4pm. Park Cities Pet Sitter clients may also leave donations for Duck Team 6 during any regularly scheduled pet sitting visit between now and the end of October. For additional information about the "Stuff-the-SUV" event, "Presents 4 Pets" or donation drop-off, please contact Courtney Coleman at Courtney(at)pcpsi.com.
About Park Cities Pet Sitter: PCPSI has served the Dallas area 7 days a week, 365 days a year since 1992. Pet sitting, daily dog walks, pet taxis, overnight sitting, pet supply shopping, litter box cleaning and dog training are all part of the services PCPSI offers. Park Cities Pet Sitter is bonded and insured, and all sitters are employees--not independent contractors. A manager is on-call 24 hours a day to handle any emergencies. Additional information about Park Cities Pet Sitter can be found on their website at http://www.pcpsi.com.
About Duck Team 6: DT6 is an all-volunteer group that captures hard-to-catch dogs that have lived their lives as strays. They are not a shelter so they rely on fosters and other rescue organizations to assist them until they can find permanent homes for the dogs they capture. They also provide full veterinary care including spay/neuter, microchips and vaccinations for their "Duck Dogs." They have an excellent Community Outreach program that collects and delivers dog food and supplies each week to communities in need. Learn more at http://www.duckteam6.org.