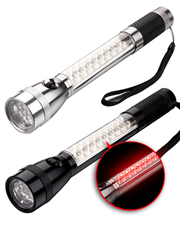 Xtreme Bright's Emergency Auto Flashlight
Plant City, FL (PRWEB) October 10, 2014
When Capt. William Ben O'Neal of the U.S. Army recently contacted Xtreme Bright to express gratitude for a great product, he had no idea what the company founder would do next. Motivated by the captain's use of the Xtreme Bright Emergency Auto Flashlight on the battlefield, founder John Gill donated eight free lights to Capt. O'Neal, who is now entering his fourth deployment.
The Xtreme Bright Emergency Auto Flashlight was developed by Gill, a former police officer, to provide peace of mind and safety for drivers and their families who found themselves stranded on the road. But it is now serving a different purpose: helping soldiers on the battlefields of Afghanistan. Thanks to its high-powered magnet and flood of light, soldiers are using it to explore dangerous areas and creating safe landing zones for helicopters.
Capt. O'Neal wrote Gill to express his gratitude for what he described as the best flashlight he ever used. As the commander of a unit, he praised the emergency flashlight's ability to illuminate dark caves in Afghanistan. But it's most crucial use was for evacuating soldiers from the battlefield.
If a soldier was injured and needed to be airlifted off the battlefield, Capt. O'Neal and his troops would stick the magnetized end of the flashlight to the hood or rooftop of their Army Humvee. They would then activate the red flashing LED lights to alert the helicopter overhead. This helped create a secure landing zone for the helicopter, resulting in safer and quicker evacuations that led to more lives saved. Gill was touched by this story and shipped eight free emergency lights to Capt. O'Neal, just in time for his fourth deployment in Afghanistan.
The Xtreme Bright Emergency Auto Flashlight has made a difference in the lives of soldiers and the company says it can also make a difference in the lives of everyday people who find themselves in dangerous situations, such as breaking down on the side of the road or dealing with a flat tire in the middle of the night. Avoiding potential danger is made easy with the light's three modes. It serves as a regular flashlight, a side flashlight and an emergency light with flashing red LEDs. It is the perfect life-saving tool in any emergency.
The flashlight easily attaches magnetically to a car or truck, flooding the area with light while also alerting oncoming traffic of danger ahead. The 26 super bright LEDs provide a 500-foot range of light. Although powerful, the flashlight is light and fits in the glove box of a car or truck. Plus, it's 100 percent waterproof.
Made of military grade aluminum and components, the emergency flashlight is as durable as it is bright. Retailing for $22.77, it is often purchased as a gift for loved ones and friends to ensure safety on the road. As with all Xtreme Bright products, the light comes with a 100 percent money-back lifetime guarantee, with no questions asked and no risk to the consumer. Click here to purchase the emergency flashlight.
About Xtreme Bright
Xtreme Bright, which launched in June 2013, is the leader in high-quality safety products that contribute positively to a secure society. As a former police officer, founder John Gill is aware of the importance of safety. During his 11 years of service to the community, he came across many people that didn't need to be victims. A simple safety light could have saved their lives.
The company entered the marketplace with a functional bike light that drew rave reviews on Amazon. Postitive customer feedback led to the creation of six more products launched in the latter part of 2013. Xtreme Bright's aim with each new product launch is to simplify and make safer everyday tasks so customers' lives are improved.
Xtreme Bright plans to launch more than 20 new products in 2015. The company continues to support vehicle and bike safety organizations. It also supports charities that help soldiers, such as the Wounded Warriors Project, as well as charities that help children and families in need, such as St. Jude's Children's Research Hospital and the Emergency Care Help Organization in Tampa, Fla.
Please visit XtremeBrightLights.com for more information.
Media Contact:
John Gill
813-240-2922
John(at)triumphlg(dot)com