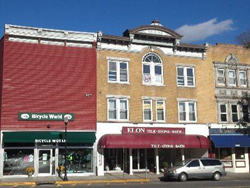 We were able to provide both the seller and the buyer the guidance and confidence to quickly and successfully close this deal...
Mt. Kisco, NY (PRWEB) October 08, 2014
Friedland Realty Advisors, formerly NAI Friedland – a full-service commercial real estate firm with a 45-year pedigree – has announced that Friedland brokers Ross Schneiderman and Atanu Bhattacharjee, with the assistance of Nick Hrvatin, have sold the Landmark status building at 11-13 East Main Street in Mount Kisco, NY to Mount Kisco Sports. The 10,000-square-foot property was sold by Elon® Inc., which used the space as a showroom for its family-owned tile and stone business. Friedland's Schneiderman and Bhattacharjee, along with Hrvatin, were under a strict six-month deadline to sell the landmark building, and did so with speed and finesse, ultimately exceeding the seller's expectations.
New to the building, but not to the area, Mount Kisco Sports is looking forward to future growth with this expansion. Mount Kisco Sports has been one of Westchester's leading sources for sporting goods and apparel since 1997, and its owner Rob Bernstein is one of the founders of the Bedford Turkey Trot, an annual family event that benefits the Bedford Community Pantry.
The new location allows the sporting goods retailer to expand its current business while catering to the athletic clientele in the area. The building is also home to Quest Yoga Arts and Takahashi's Karate Dojo – the addition of Mount Kisco Sports helps create a mini sports center along East Main Street. The location provides ample parking and is situated within walking distance of the Mount Kisco train station.
"This is more than just a sale, it is a commitment to the community," said Atanu Bhattacharjee, of Friedland Realty Advisors. "The expansion of Mount Kisco Sports means that more people will have access to the things they love, and a thriving business will continue to give back to the community."
"By doing our research and spending time learning about the local players in the market we were able to provide both the seller and the buyer the guidance and confidence to quickly and successfully close this deal," added Friedland realty Advisors' Schneiderman.
The seller was represented by Paul Jaffe, Esq. and the buyer was represented by Andrew S. Hirsch Esq. of Lawrence Properties/Bernstein Real Estate. Elon Tile will continue to operate from its Bethel, CT headquarters.
About Friedland Realty Advisors:
Friedland Realty Advisors is a full-service commercial real estate firm with a 40+-year-pedigree serving metropolitan New York and the Tri-State area, with a focus on Westchester, the Bronx and Manhattan. With offices in both Yonkers and Manhattan, the firm also works with properties and clients in Putnam, Rockland, Connecticut and New Jersey. Friedland Realty relies on a team of talented, veteran brokers to represent properties in the retail, industrial, office and investment sales markets. All of Friedland Realty's brokers are supported by cutting-edge technology and databases that allow clients to find the best lease or purchase option. Friedland Realty Advisors is located at 656 Central Park Avenue in Yonkers and can be reached at (914) 968-8500 or by visiting http://www.friedlandrealty.com.
Friedland Realty Advisors on LinkedIn: http://goo.gl/N6DjlP
Friedland Realty Advisors on Facebook: http://www.facebook.com/friedlandrealtyadvisors
Friedland Realty Advisors on Twitter: http://www.twitter.com/FriedlandNY