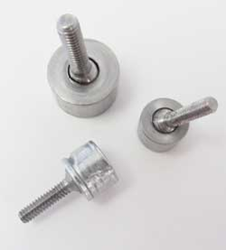 Oshkosh, WI (PRWEB) October 15, 2014
Triangle Manufacturing, a US-based high-volume manufacturer and supplier of stamped steel components, has developed a prototype for a new swivel mounting that provide benefits over traditional swiveling ball studs. The applications for this product range from gas springs found in truck and gate lift supports, tool boxes, lids and adjustable chairs, along with camera mountings.
Triangle's design will reduce the number of necessary components by eliminating adjustment wheels on camera mounts, since adjustments for the tilt and swivel will be contained in the ball stud. This design will provide a constant and consistent force with various available torqueses, lending steadiness to the mount.
These industrial strength steel components will have optional salt spray resistance along with 360° swivel capability and a 14° tilt that is customizable up to 20°. Size parameters are preliminary, as these ball stud swivels are not an in-stock, production product, but would most likely range from 10-24 thread size to 3/8-16 thread with a stud length minimum of 1/2".
These components will be available in cost-effective mild steel and would only be available in high volume. Although Triangle does not currently manufacture these products, they are seeking interested OEM's.
About Triangle Manufacturing
In business for over 90 years, Triangle Manufacturing is a US-based company that has grown from a small job shop to a high-volume supplier of HVAC motor mounting brackets, mounted bearing assemblies, lazy susan turntable bearings and custom designed rod ends, linkages and creative assemblies. Triangle Manufacturing Company, an ISO 9001:2008 certified company, has used a foundation of experience, paired with technical know-how and advanced automation to be the leader in fully customizable metal fabrication, product innovation and invention.
In addition to a complete bearings and mountings portfolio, Triangle's driving force is creative engineering. We have introduced and redesigned fresh products that are progressive in the agriculture, automotive, HVAC and display industries. With sales offices in Europe, Triangle is poised to supply OEMs anywhere in the world; we're a company with global reach, international customers and a tradition of innovation.
For more information, samples or quotes, visit us at http://www.TriangleOshkosh.com.
Contact:
Kylie McGowan
Marketing Coordinator
http://www.TriangleOshkosh.com
info(at)triangleoshkosh(dot)com