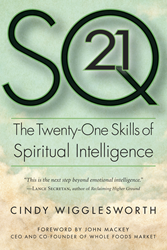 "I love this book. I haven't just read it-I have studio it and practiced it." Bob Mackey co-CEO of Whole Foods Market
New York, NY (PRWEB) October 09, 2014
SelectBooks, Inc. is pleased to announce the trade paperback debut this October of Cindy Wigglesworth's title SQ21: The Twenty-One Skills of Spiritual Intelligence (October 2014; $14.95; ISBN: 978-1-59079-298-8). Originally released as a hardcover in 2012, SQ21 had great success and was quickly recognized as a powerful exploration in the realms of both spirituality and leadership. A well-rounded individual understands that there are various forms of intelligence: analytical, emotional, interpersonal, and spiritual, but it is the latter that is perhaps the most powerful and the least understood. Spiritual intelligence encourages positive life skills through compassion and understanding, and Wigglesworth logically and comprehensively presents the information to her readers.
SQ21 is a faith neutral and faith friendly discourse of Ms.Wigglesworth's premise that spirituality can be translated into spiritual intelligence, an aptitude which is quantifiable and can be measured. In a somewhat similar fashion to Daniel Goleman's classic Emotional Intelligence, SQ21 sets the groundwork for a spiritual self-assessment, and a complete self-assessment is available on line to the buyer of her book through the author's company Deep Change, Inc. (http://www.deepchange.com). This analysis is incorporated with the teachings of such iconic figures as Nelson Mandela, Gandhi, and Mother Teresa to form a book that has already helped thousands of people from all walks of life develop their spiritual intelligence and put their skills into practice in their personal and professional lives.
Lauded as one of the most forward-thinking works on the topic of spirituality, SQ21 has impressed spiritual and business leaders alike. The new foreword by the co-founder and co-CEO of Whole Foods Market, John Mackey, is a perfect representation of this book's hybrid appeal. Mackey has been applauded for steering business practices in a more sustainable and ethical direction in regard to both the Whole Foods Market products and Whole Foods Market employee care.
John Mackey thoughtfully introduces the purpose of the book and expertly explains the core strengths, which open greater possibilities for the individual as well as for the world community. Having chosen Ms. Wigglesworth to conduct seminars for the Whole Foods Market Academy for Conscious Leadership, Mackey has had the chance to see the teachings firsthand. "Lead yourself first with such authenticity and depth that other people will choose to follow," Wigglesworth proclaims as she helps build the leaderships abilities of her audience inside and out.
About Cindy Wigglesworth
Cindy Wigglesworth is the Founder of Deep Change Inc. and has over twenty years of global HR management experience. She has been featured on the Oprah Winfrey Show and many radio shows, and has led two TEDTalks on the application of spiritual intelligence in leadership.