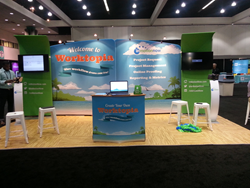 Our inMotion workflow automation solution helps creatives find their Worktopia.
Research Triangle Park, NC (PRWEB) October 09, 2014
inMotionNow (http://www.inmotionnow.com/worktopia/) is premiering at the Adobe MAX Conference (max.adobe.com/), taking place October 6th through 8th in Los Angeles. Adobe Max attracts more than 5,000 of the world's most influential designers, developers, creative directors, video professionals, photographers, and business minds.
inMotionNow's flagship product, the inMotion Workflow Automation Solution, gives creative teams an all-in-one solution for managing the entire creative production process from project kick-off to final approval, so designers can make more time for creativity. By automating administrative processes like creative brief management, project management, and online proofing, the SaaS application brings design teams to Worktopia, where they can focus on creating great work.
"We're excited to showcase inMotion and how workflow automation helps creative teams get back to what they love: being creative," said Ben Hartmere, CEO of inMotionNow. "This event provides a great opportunity for us to connect with creatives who are passionate about moving design forward. Our inMotion applicaiton helps them find their Worktopia - where they have more time to produce high-quality creative work by eliminating time spend on administrative tasks."
inMotionNow representatives will be providing live demonstrations of inMotion and several advanced reporting features recently added to the workflow automation platform.
About inMotionNow
inMotionNow is a leading provider of workflow automation solutions, facilitating efficiency and productivity from project kickoff to final approval. The company's flagship SaaS product, the inMotion Workflow Automation application for marketing and creative departments, enables creative professionals to manage and track their print, video, and interactive projects in a centralized, online environment. Project stakeholders can access and markup content online and deliver approval back in minutes, from any internet-enabled device or through the inMotion app for iPhone and iPad.