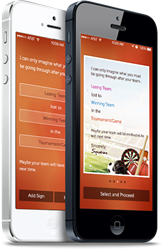 (PRWEB) October 09, 2014
We all know someone who roots for the "wrong" team. A new iPhone app sends customizable sarcastic "sympathy" cards to these misguided fools. Called Sports Sympathy Cards, the app is available now on the iTunes App Store for $0.99.
Sports Sympathy Cards comes with five options for different consolation messages. Some feature fill-in-the-blanks fields for losing and winning teams and the name of the event. The blank card lets the user craft the entirety of the message.
For all cards, users can add their own signature by writing directly on the screen. The signature is added to the end of the card's message.
A preview allows the user to go back and make any desired changes. After it's perfect, the final card goes out to the chosen recipients via e-mail.
Sports Sympathy Cards is the perfect app for expressing feelings after the big game.
A portion of all proceeds will be donated to The Jimmy Fund.
About the Creator
"Sports just brings people together and brings out so much passion," says the man behind Sports Sympathy Cards, Al Zulli. He was inspired to create the app after he sent a friend, a Philadelphia Flyers fan, a mock consolation card when they were defeated by the Boston Bruins.
About the Developer
Zco Corporation is a tried-and-true software development company that has been living and breathing technology for over 25 years. A proven and reliable vendor choice, Zco is passionate in its mission to create attractive, resilient products for its clients. Its powerhouse team, one of the largest in the world, was handpicked for specialties in mobile app development, enterprise software, and animation services. To learn more, visit http://www.zco.com or call 603.881.9200.