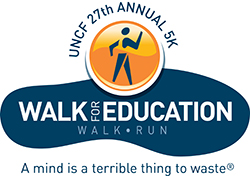 "We would like to invite everyone in the Greater New Orleans community and surrounding areas to come out to the walk in support of our students and education," said LaJuana Chenier, Regional Development Director for UNCF.
New Orleans, LA (PRWEB) October 08, 2014
The New Orleans office of UNCF (the United Negro College Fund), the nation's largest and most effective minority education organization, will celebrate students at its 27th Annual Walk for Education on Saturday, October 11, 2014 at the Audubon Park Riverview in New Orleans. The 2014 Walk, co-chaired by WWL-TV news anchors Sheba Turk and Thanh Truong, is a celebration of education that will bring together thousands of community supporters to raise vitally needed funds to get students "to and through" college. These funds help to support the educational mission of UNCF, specifically its two local member institutions, Dillard University and Xavier University of Louisiana.
Participants can run or walk a 5K course through scenic Audubon Park. Members of the community are invited to support UNCF and its students by forming a Walk for Education team or registering as individuals. UNCF encourages everyone to take advantage of early registration fees – $35 for adults and $15 for children 12 years of age and younger.
UNCF has a long and strong commitment to New Orleans. More than 5,000 students in the city, and in Louisiana, are getting their education at UNCF member institutions and with UNCF scholarships at colleges and universities across the country. UNCF invests nearly $2 million in scholarships for New Orleans students each year.
For more information on the UNCF New Orleans Walk for Education or for sponsorship packages, please contact Ariel Wilson at 504.581.3794, Ariel.Wilson(at)uncf(dot)org or visit http://uncf.org/NewOrleansWalk.
WHO: UNCF (United Negro College Fund)
WHAT: 27th Annual UNCF Walk for Education
WHEN: Saturday, October 11, 2014
7:30 AM – Registration
8:30 AM – Event Begins
WHERE: Audubon Park Riverview, area directly behind Audubon Park & Zoo
About UNCF
UNCF (the United Negro College Fund) is the nation's largest and most effective minority education organization. To serve youth, the community and the nation, UNCF supports students' education and development through scholarships and other programs, strengthens its 37 member colleges and universities, and advocates for the importance of minority education and college readiness. UNCF institutions and other historically black colleges and universities are highly effective, awarding 20 percent of African American baccalaureate degrees. UNCF administers more than 400 programs, including scholarship, internship and fellowship, mentoring, summer enrichment, and curriculum and faculty development programs. Today, UNCF supports more than 60,000 students at 900 colleges and universities across the country. Its logo features the UNCF torch of leadership in education and its widely recognized motto, "A mind is a terrible thing to waste."® Learn more at http://www.UNCF.org
CONTACT:
Joi C. Ridley
UNCF Communications Manager
202.810.0225
Joi.Ridley(at)uncf(dot)org
###