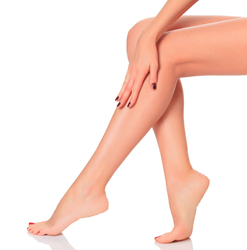 We are learning the newer methods are indeed more effective and generally longer-lasting.
Rolling Meadows, Ill. (PRWEB) October 09, 2014
New therapies -- including a treatment just made available in August -- are leading to more effective vein treatments, Mitchel P. Goldman, M.D, a leading expert on vein treatments, told a gathering of skin and beauty experts recently.
Working with other dermatologic surgeons, Goldman has studied the safety, effectiveness and satisfaction ratings of foam sclerotherapy for veins on the legs, hands and chest as well as the use of a long-pulse Nd:YAG dynamically cooled laser to treat facial veins.
His results are just now being released, in peer-reviewed scientific journals.
Goldman, president of the American Society for Dermatologic Surgery, spoke recently at the late-September ASDS "Skintelligence" presentation in New York City. During Skintelligence, he and several other dermatologic surgeons outlined innovative procedures and new trends in cosmetic and medical skin treatments.
Foam sclerotherapy involves mixing an injectable sclerosant solution with air or carbon dioxide so the resulting foam increases the drug's surface area in the veins, displacing the blood and causing eventual closure and disappearance of the veins.
Goldman was among the first in the country to perform foam sclerotherapy for leg and hand veins and then teach others the procedure. He also has written extensively about the treatment.
Treatment of large leg varicose veins has taken a big step forward with the debut of Varithena, which combines Polidocanol and a carbon dioxide mix to create a new injectable foam. "Foam treatments have come a long way," said Goldman.
Varithena, by BTG, became commercially available in August after receiving approval from the U.S. Food and Drug Administration in late 2013. It can be used to treat veins in the great saphenous vein system, which runs the entire length of the leg. Goldman conducted clinical trials on Varithena before FDA approval.
While some patients may regard veins as essentially a cosmetic concern, Goldman said leg veins can cause health problems. Fifty percent of patients with varicose and other leg vein problems experience blood clots or ulceration. Varicose veins also can cause night cramps, restless legs, pain and other issues, in addition to cosmetic concerns. An estimated 30 million-plus Americans ages 18 to 70 have varicose veins, he said.
A survey of 221 patients who participated in the final clinical trial for Varithena shows success with the new treatment, Goldman said.
At one year post-treatment, the patients showed consistent improvements in appearance; disease severity; and symptoms such as heaviness, aching, swelling, throbbing and itching, Goldman said. Both physicians and the patients themselves assessed how the leg looked.
"I have no doubt Varithena will be an important addition for physicians' abilities to treat leg veins successfully," Goldman said.
Goldman said prominent hand reticular veins – the dilated blue and green veins just beneath the skin's surface – bother many of his patients. Though he has used foam sclerotherapy effectively on veins in the hand for years, "The treatment is not widely used yet and the literature in terms of side effects and treatment outcomes is somewhat lacking."
He and Drs. Anne Marie Tremaine and Daniel P. Friedmann reported in August the results of a retrospective review for both effectiveness and safety of patients whose hands had been treated with foam therapy between 2003 to 2012.
Patients representing 30 of the 38 treated hands reported themselves "very satisfied" with the results, with only one expressing dissatisfaction. Eighty-one percent said they would definitely consider repeat treatments if necessary.
Adverse events following treatment were rare and mild, Goldman said. The most common side effect was blood coagulation, as had been seen in earlier studies, followed by mild pain, redness, bruising and swelling.
"Based on our experience, foam sclerotherapy seems to be a safe and effective means for treating prominent reticular veins on the back of the hands," he said. "Patients had excellent long-term satisfaction and experienced far less adverse events compared with sclerotherapy of leg veins."
Goldman – working with Friedmann and Andres Cruz, M.D. – similarly found foam sclerotherapy effective for treating blue and green surface veins appearing on the chest.
The three dermatologic surgeons followed up with 12 patients, all female, who had undergone a total of 16 procedures. "Patients reported substantial long-term efficacy and satisfaction scores, with few adverse events," Goldman said. "Though we believe further studies are needed, initial indications are that foam sclerotherapy is a very viable treatment option."
Facial Vein Treatments
While facial surface veins cause no harm, many patients find the visible blue and green surface veins distressing, Goldman said. Yet there is no true gold standard for treating what patients regard as unsightly veins near the eye socket or temples, he said.
Through surveying former patients treated with a dynamically cooled laser, he and Ana Marie Liolios, M.D., conclude the procedure "is a safe and effective treatment for facial reticular veins with minimal side effects," said Goldman. The non-invasive treatment utilizes the dynamically cooled, variable spot size 1064 Nd:YAG laser, known as the CoolTouch Varia.
Other treatments – including intense pulsed light therapy and a variety of other laser procedures – are popular, but they do not specifically target larger surface veins, Goldman said. Moreover, many of the treatments are not without risk.
"There also is hesitation using sclerosing, or foaming, injectable agents because of the proximity of the veins near the eyes," he said.
Of the 40 patients interviewed by Goldman and Liolios, 30 reported themselves "very satisfied" and their improvement ratings averaged 81.2 percent. The most common side effect was mild swelling, and half reported no adverse effects at all.
One patient reported the veins reappeared after six to nine months. This patient had a repeat treatment at a slightly higher energy level with good results, Goldman said.
The dynamically cooled, variable spot size 1064 Nd:YAG laser is a safe and effective treatment for facial reticular veins with minimal side effects, he and Liolios concluded. The results are usually immediate and, based on a long-term follow-up, tend to be long-lasting, Goldman said.
About ASDS
The American Society for Dermatologic Surgery (ASDS) is the largest specialty organization exclusively representing dermatologic surgeons who have unique training and experience to treat the health, function and beauty of your skin. ASDS members are pioneers in the field. Many are involved in the clinical studies that bring popular treatments to revitalize skin and fill and diminish wrinkles to the forefront. Their work has helped create and enhance many of the devices that remove blemishes, hair and fat, and tighten skin. Dermatologic surgeons also are experts in skin cancer prevention, detection and treatment. As the incidence of skin cancer rises, dermatologic surgeons are committed to taking steps to minimize the life-threatening effects of this disease. For more information, visit asds.net.
Website: http://www.asds.net
Follow ASDS on Twitter: http://www.twitter.com/ASDSSkinExperts
Become a fan of ASDS on Facebook: https://www.facebook.com/ASDSSkinExperts
Locate a dermatologic surgeon in your area: http://www.asds.net/findadermatologist.aspx