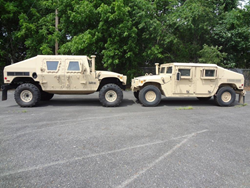 Mount Airy, NC (PRWEB) October 09, 2014
Granite Tactical Vehicles, Inc. (http://www.granitetacticalvehicles.com), a designer and manufacturer of armored vehicles for government and law enforcement agencies and private security contractors, announced today that it will show its Survivable Combat Tactical Vehicle (SCTV) System at the AUSA Exposition, October 13-15, 2014, at the Walter E. Washington Convention Center in Washington, D.C. The AUSA annual conference and exposition is the premier exposition of equipment and systems that the U.S. Army will rely on in the years to come. Granite is teamed with Textron Systems to develop and market the SCTV within its COMMANDO vehicle line.
The four-passenger SCTV vehicle features Granite's patented monocoque armored crew compartment with its V-hull providing MRAP-level underbody blast protection, and provides scalable armor protection. This successor to the venerable Humvee is powered by a Cummins 6.7 liter Diesel with an Allison 6-speed transmission, and features a stronger suspension, improved brakes, and innovative onboard instrumentation. The vehicle also mounts a folding gunner's turret allowing rapid deployment from a cargo aircraft or shipboard below deck. This vehicle will be displayed in Textron Systems' Booth 6515.
The fully-armored SCTV is available as a four-passenger armament carrier or by incorporating a modular electronic equipment bay with reconfigurable racks, power storage, distribution, and dedicated cooling and an elevated signal intelligence mast as a C4ISR vehicle. The SCTV can be configured as a nine-passenger troop carrier, and in its two-passenger configuration as an Avenger air-defense vehicle or as a flatbed cargo truck, and as a field ambulance.
With the fully armored crew compartment, more powerful engine and transmission, stronger suspension, improved brakes, and unique electronics capability, the SCTV provides superior survivability as well as the mobility and maneuverability the original HMMWV was meant to provide.