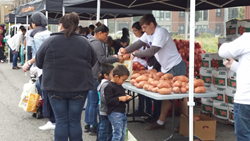 New York City, NY (PRWEB) October 09, 2014
Last week, President Obama approved a plan to allow several thousand young children from Central American countries to apply for refugee status in the United States. Given this development along with the influx of unaccompanied minors that arrived over the summer, LULAC and Tyson Foods and donations to food pantries with a high concentration of refugee children is particularly timely.
WHAT: The League of United Latin American Citizens (LULAC) and Tyson Foods are partnering to donate a truckload of food to the Food Bank for New York City. Included in the event will be opportunities to mingle with representatives from the Food Bank for New York City, Tyson Foods, LULAC, and New York community leaders.
WHEN: Saturday, October 11
11:00 A.M.
WHERE: Beth Hark Christian Counseling Center
2-26 East 120th Street
New York, New York 10035
WHO: Food Bank for New York City, representative
Beth Hark Christian Counseling Center, representative
Tyson Foods Director-Federal Government Relations, Nora Venegas
LULAC National Vice President for the Northeast, Ralina Cardona
WHY: The event is significant because:
· Protein is the most requested and least provided at food banks.
· In addition to the truckload donation in New York City Tyson and LULAC will also be donating food to food pantries in Los Angeles, California; Houston, Texas; and Miami, Florida.
· Food Bank For New York City has been the city's major hunger-relief organization working to end hunger throughout the five boroughs for more than 30 years.