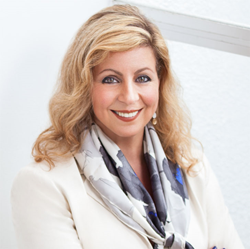 " In the midst of the global chaos, comes a book that offers great hope for the future of the Middle East. It is a powerful and enlightened rethinking of a region seeking a new renaissance."—JEAN HOUSTON, PhD, author of A Passion for the Possible
New York, NY (PRWEB) October 15, 2014
SelectBooks, Inc. is pleased to announce the publication of Emerge! The Rise of Functional Democracy in the Middle East (October 2014; ISBN: 978-1-59079-286-5; $24.95; hardcover) by Elza Maalouf. Emerge! introduces a new paradigm for governance based largely on the contributions to Integral Theory from Clare Graves and Don Beck, including Beck's theory of Spiral Dynamics. By placing democracy in this evolutionary, values-system context, Maalouf establishes foundations for necessary change in the Middle East without discounting cultural identity. This book places Ms. Maalouf in collaboration with her colleague and mentor Don Beck as they seek to establish a new paradigm for large-scale political change, while simultaneously seeking to provide solutions to the Israeli-Palestinian conflict.
In a similar real-world application, Don Beck's "Spiral Dynamics" played a major role in engineering South Africa's transition from apartheid. When applying Spiral Dynamics to the Israeli-Palestinian conflict, Maalouf uses MEMEtocracy's 5-Deep Assessment Model, which seeks to understand behaviors and actions, systems and structures, mindsets and worldviews, memetic codes, and life conditions. Through research and observation, and then putting this information in a historical evolutionary context, Maalouf forms a memetic picture of the Israeli-Palestinian conflict—and the diagnostic tools necessary to fix it.
Values systems, or memes, are what define the level of existence of an individual, group, or culture. These include preference for type of authority, perspectives on health care, and many others. MEMEtocracy embraces forms of government which are congruent with the prevailing value systems in the society. Maalouf explains that the most significant monarchies in the Middle East escaped changes brought by the Arab Spring because their leaders were responsive to people's needs and enacted reform measures to accommodate evolution within the cultures and regions around them.
Because of the asymmetry between Israeli and Palestinian levels of existence, peace has been a goal that has long eluded them. Maalouf addresses this difficulty by founding the Build Palestine Initiative. Through this mentoring project, Maalouf advises the third generation of Fatah and leaders of the Arab millennial generation worldwide. Alongside her many accomplishments, Emerge! illustrates the wide-reaching effects of a national summit she organized in the Middle East. This summit garnered the attention of the president and foreign minister of Israel and over seven hundred community members and other representatives attended the event. The summit provided a forum for community leaders from the West Bank and Gaza to share their ideas for the future of Palestine.
By implementing indigenous intelligence and an understanding of Spiral Dynamics, Maalouf asks us to seek understanding before we structure and create. She then shows us the necessity of focusing efforts on the education of Palestinian youth to teach them to build their own sustainable constructs for a new Palestine that can be a partner in peace. Dr. Jean Houston, the best-selling author and co-founder of the Human Potential Movement, stated, "Elza Maalouf's remarkable book Emerge! is a powerful and enlightened rethinking of a region seeking a new renaissance. She is a brilliant futurist as well as being someone whose work in the Middle East is having a profound impact on the lives of people in the region."
SPIRAL DYNAMICS is founded on the eight existing hierarchical social structures, all the way from first tier "Beige" (survival bands, individualistic, little structure, basic needs-oriented) to fourth tier "Blue" (orderly, absolutist, authoritarian) to eighth tier "Turquoise" (global view, holistic, blending a strong collective of individuals).
ELZA MAALOUF is a Lebanese-American futurist, specializing in large-scale systems and societal change. Her work focuses on the conscious emergence of corporations, and on decoding the social and political complexities of the Middle East. Maalouf advises administrations, visionary corporate leaders, and global think tanks on the latest advances in whole-systems applications. She is one of the founders of the Center for Human Emergence and the Build Palestine Initiative.