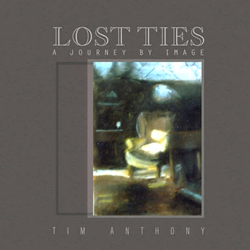 Artist Tim Anthony makes a compelling literary-art home run with his new book!
(PRWEB) October 10, 2014
"This book presents a fascinating approach to art and history. We are pleased to announce its release," said Robert Fletcher, CEO of Strategic Book Publishing and Rights Agency.
"Lost Ties: A Journey by Image" is a perceptive book of art containing descriptive works in three parts. The first section contains a run of "stills" from an imaginary screenplay that the artist conjured up. As the images develop, a sequence of chronological flow, time and story ensue.
This all happens by accident, but eventually Tim Anthony is able to incorporate all of the images into a World War II screenplay with two separate operating theaters: Indo-Europe and North Africa. He weaves a story about five girls and the dilemma of their father being forced to develop biological warfare for the Germans.
The second section consists of text by the author and links illustrations to folk tales. It was conceived as preparation for a future book. The third section remains a smorgasbord of backlogged work from 1987 to 2000, and shows the scope and range of the artist's ability.
"Artist Tim Anthony makes a compelling literary-art home run with his book, 'Lost Ties: A Journey by Image.' A veritable feast for the senses, the book is at turns exceedingly provocative and deeply intriguing. Made up of three major sections, the art works in 'Lost Ties' are spiritually connected by one theme: the Second World War, and all the emotional pathos that it exudes. From another approach, as the author himself states, the images are based on a screenplay about the Second World War, and how the war affected the lives of five sisters and their father who was forced to take part in Germany's biological warfare. Most of Anthony's images are deeply intriguing.…'Lost Ties' is a well-rounded showcase of artist Tim Anthony's many talents – whether it's literary or visual arts – Anthony nails it. In any case, the book is a rare, endearing experience, one that haunts you days after reading it." – Review from website http://sbpra.com/timanthony/?page_id=19
About the Author: Tim Anthony was raised in Minnesota and studied at the University of Minnesota in the late 1960s, majoring in psychology, humanities, and art. After another stint out East studying oriental medicine by attending what is now the Kushi Institute in Becket, Massachusetts, he returned to Minnesota and engaged in an alternate life style, settling on small contracted jobs in order to support more artistic but non-paying endeavors. His art work represents a sense of drama from life experiences including literary and film influences, hunting and fishing.
Watch the video book trailer at: https://www.youtube.com/watch?v=C0LX3qvu8UM
"LOST TIES: A JOURNEY BY IMAGE" (Kindle ISBN: 978-1-63135-514-1, ePub ISBN: 978-1-63135-515-8) is available for $9.99 at http://epubco.com/shop/products/lost-ties-a-journey-by-image-by-tim-anthony/, Amazon, Barnes & Noble Nook, and in multi-formats for other e-Readers through numerous vendors online.
Publisher's website: http://sbpra.com/TimAnthony
Strategic Book Publishing and Rights Co, LLC