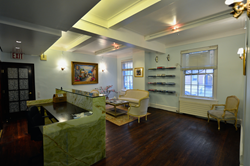 (PRWEB) October 08, 2014
Braverman Reproductive Immunology is a globally recognized center for in vitro fertilization (IVF), infertility, and groundbreaking research in reproductive immunology. Over the years, world renowned Dr. Jeffrey Braverman and his staff of specialists have helped thousands of women and families successfully overcome infertility and pregnancy loss. In fact, the practice has earned a reputation for maintaining some of highest success rates while treating the most complex cases of recurrent pregnancy loss.
As part of Braverman Reproductive Immunology's commitment to providing exceptional service and life-changing results, the center has announced the opening of a new office in New York City. The new office, located on Park Avenue, will be a full-service facility for all of Braverman Reproductive Immunology's patients who receive treatment in New York City. It will be outfitted with state-of-the-art diagnostic, medical, and surgical equipment.
In addition to the new Park Avenue location, Braverman Reproductive Immunology will maintain its current offices on Long Island and 23rd street, as well as a practice consulting with physicians across the world. The Park Avenue office will be separate from the IVF retrieval center on 23rd street, which is designated only for egg retrievals. All other offices visits, including sonograms and consults, will be performed at the new office.
With its new office location, Braverman Reproductive Immunology plans to continue its mission of successfully treating many more cases of infertility, from the simplest to the most complex. The new office will be located at:
888 Park Ave
New York City, NY 10075
Braverman Reproductive Immunology is a full-service fertility center offering services for IVF, IUI, egg donor, and reproductive immunology treatment. The center's founder, Dr. Jeffrey Braverman, has been widely recognized for his center's exceptional success rates and groundbreaking research. More information about Braverman Reproductive Immunology can be found at http://www.preventmiscarriage.com.