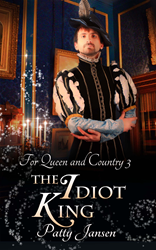 Hollywood, CA (PRWEB) October 08, 2014
Patty Jansen of Sydney, Australia, who was honored as a first place quarterly winner at the 27th Annual L. Ron Hubbard Achievement awards in April of 2011, has now released her 21st story, "For Queen And Country 3: The Idiot King." Since her win three years ago, Patty continues to release close to a story a month.
It is from her fantasy series inspired by 17th century Amsterdam, magic and historically-twisted events. After fleeing from the burning ruins of Saardam, Johanna, Roald, Nellie and Loesie have come to Florisheim finding many of their kinsmen there. The survivors from the burning of Saardam who have come here are the nobles who were never great supporters of the old king, and it is likely that they won't support his son either, even if he was normal. They support his marriage to Johanna even less and Johanna's position as the new king's wife would be improved immensely if she produced an heir, but so far that's not happening.
Florisheim is alive with evil magic, and that magic is starting to affect the Saarlanders who are unused to it. They suffer apparitions of ghosts, people driven to injure themselves, or taken prisoners to work in a mysterious hole in the ground. Johanna knows that they have to get out of that evil place, but where can they go when the violence covers the entire known world?
"Idiot King" is the third installment in this series. The series was introduced as a short story in 2011, "Whispering Willows."
"Immediately after winning Writers of the Future, Patty started selling short stories to Analog Magazine and has published short stories in Aurealis, Redstone SF and the Grantville Gazette.
To learn more about Patty, visit http://www.pattyjansen.com. For details on how to enter the contests, visit the website at http://www.writersofthefuture.com