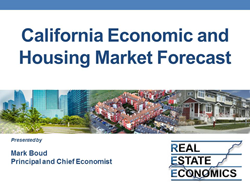 Last year at this time, Y-O-Y price appreciation was over twice the current rate.
San Clemente, CA (PRWEB) October 16, 2014
Year-over-year price appreciation has averaged 7.2% in California, with price appreciation (in percentage terms) being slightly skewed toward smaller homes. Last year at this time, Y-O-Y price appreciation was over twice the current rate. So, what's going on? Is California's housing market hitting the skids? Is the window for land acquisition slamming shut? After several quarters of price appreciation at hyper levels, are we now due for a correction? Real Estate Economics doesn't think so. And yet, the time for easy decisions is over. We invite you to join Mark Boud for a one-hour webinar that presents economic and market highlights and insights regarding housing supply/demand and price appreciation forecasts for California, with special insight provided for the Bay Area, Southern California, Sacramento, and Central Valley regions. This webinar is offered at no cost for those joining at 9:00 am on November 4th.
About Real Estate Economics
Home builders and developers face an ever changing economic landscape. As the leading provider of housing market data and statistics, Real Estate Economics offers online market research tools designed to allow our clients to analyze their market areas using the most powerful database in the home building industry.
For more information on how Real Estate Economics can help land developers, home builders, site acquisition specialists, real estate professionals and financial institutions, please visit RealEstateEconomics.com or call (949) 502- 5151.