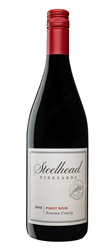 The new Steelhead Vineyards packaging reinforces our commitment to quality in all areas.
(PRWEB) October 09, 2014
Steelhead Vineyards of Sonoma County is introducing sophisticated new packaging for its wines with a sleek new look that broadens consumer appeal for its super-premium wines. The new packaging also strengthens Steelhead's identity with environmental causes.
With an elegant brand script, a brighter base color and more appealing varietal colors on the label, the new Steelhead Vineyards packaging gives the wines stronger retail shelf presence and a greater luxury image for on-premise sales. The new packaging includes striking, rich accent hues of blue for white wines and red for red wines, giving Steelhead a notable new vibrant look. A subtle allusion to water supports the brand positioning, while Steelhead's conservation message, Better Wine, Better World, has been brought to the front label through a classic stamp seal image that firmly establishes this identity. New shippers incorporating the new design are also being developed. The first Steelhead Vineyards wine to carry the new packaging is the 2013 Pinot Noir, which was released in July. The Sauvignon Blanc will be released in mid October and the Chardonnay and Steelhead Red will follow later this year.
"The new Steelhead Vineyards packaging reinforces our commitment to quality in all areas," said Katy Leese, proprietor. "Consulting winemaker Hugh Chappelle crafts some of the finest wines on the market in this price category, and the new label beautifully complements the wine in the bottle."
In conjunction with the release of the new package design, Steelhead Vineyards put the fresh new look on their web site also featuring a Wilderness Resort Sweepstakes, which includes a four-night stay at the spectacular Clayoquot Wilderness Resort in British Columbia. No purchase is necessary and entry information is at http://www.steelheadvineyards.com.
Steelhead Vineyards was founded in 1998 as the first California winery dedicated to fisheries conservation. Steelhead partnered with Trout Unlimited to restore creek habitats through a donation of a portion of wine sales to the conservation organization. Steelhead Vineyards has since expanded its support of environmental and conservation non-profits. In 2013, Steelhead Vineyards donated more than $14,000 to Trout Unlimited and other environmental causes.
Based in Sonoma, California, Steelhead Vineyards makes wines from some of the top vineyards and appellations in the North Coast. Through 1% for the Planet, a broad network for environmental causes, Steelhead supports Trout Unlimited and other projects donating a portion of its proceeds to fund water and habitat restoration projects. Additional information on Steelhead vineyards is available at http://www.steelheadvineyards.com.
# # #
About Steelhead Vineyards
Steelhead Vineyards was founded in 1998 to honor the Steelhead trout that are native to Wine Creek and Dry Creek in Sonoma County's Dry Creek Valley. In 2002 the first vintage of Steelhead Red was released – a juicy Zinfandel blend – as a tribute to the restoration efforts and on-going commitment to the biodiversity of Sonoma County. From its beginning, Steelhead Vineyards has had two goals: to use its resources to create outstanding wines and to maintain and restore a balance with the surrounding environment. Steelhead Vineyards crafts wine from Sonoma County and throughout California's North Coast with consulting winemaker Hugh Chappelle. Additional information is at http://www.steelheadvineyards.com.