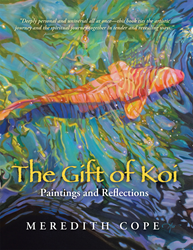 Koi are strong reminders of our true nature and connection to all that is.
Cincinnati (PRWEB) October 08, 2014
It's been said that life often imitates art. For artist and author, Meredith Cope, this is the undeniable truth.
"The Gift of Koi" perfectly blends together artistry and spirituality. Explaining the artistic journey as a spiritual one, Cope reveals the mystery and magic of awakening and connecting to her life's purpose through her life-long passion with art. Opening to what she most loved brought her to new levels of meaning, allowing her to experience life on a deeper level through images with koi.
"Koi are strong reminders of our true nature and connection to all that is," Cope said. "Since I truly believe that this set of paintings is what I have to give to the world, I am hoping to just enrich and stimulate thinking on that level and remind us of the who-we-are that we are suppressing and the what-we-can-be of our potential." The poetic reflections in this book give more than a glimpse into that potential and provide the promise of an awakening for its readers.
Cope has a degree in the fine arts and has taught across the country. Additionally, her art has been featured in government buildings, show in New York, Hawaii, Seattle, Dayton, Charleston and Maine. She was honored as an invited guest artist to the Lisbon International Contemporary Exhibition 2013.
"The Gift of Koi" marks the first time that Cope's work will be shared in such an immediately accessible format. For those in the art industry to simple art appreciators, the experience of the depth of artistry, enhanced by the imagery of the written word is truly a gift.
The poetry and autobiographical narrative, written by Cope herself, connect the reader to messages of unlimited love, potential and inner harmony as exemplified in the paintings.
For more information, visit meredithcope.com or balboapress.com
"The Gift of Koi"
By: Meredith Cope
ISBN: 978-1-4525-9182-7
Available in softcover hardcover ($23.95), e-book ($3.99)
Available on Amazon, Barnes & Noble and Balboa Press
About the author
Meredith Cope is an award-winning artist whose work was exhibited in the Ohio Governor's Mansion for two years. Recently she was honored as a guest artist for the Lisbon International Contemporary Exhibition in October 2013. Currently, Cope enjoys a presence in galleries in Charleston, South Carolina, Maine and Hawaii.
# # #
**For Immediate Release**
For review copies or interview requests, contact:
Daniel Pearson
317.602.7137
dpearson(at)bohlsengroup(dot)com