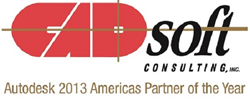 Tempe, AZ (PRWEB) October 09, 2014
CADsoft Consulting Inc., a premier provider of technical design and engineering solutions today announced that it has earned the new Autodesk Advisor status for Autodesk BIM 360. As an Advisor Partner, CADsoft Consulting has shown that they have made significant investment in their BIM 360 business, provides the highest level of industry acumen, and solution knowledge to sell and support the Autodesk BIM 360 Cloud Service Solutions.
"Having the opportunity to represent Autodesk's cloud-based services for BIM and field management allows CADsoft to provide complete solutions from preconstruction to construction execution to commissioning and handover." stated Lisa Duncan, Principal CADsoft Consulting. "Our customers expect us to be on the leading edge of design technology and BIM 360 is a solution that can directly impact today's construction industry."
The new Advisor Program allows Autodesk Partners to brand their expertise in delivering solutions and services designed to support customers working within a highly specialized BIM workflow utilizing BIM 360 Cloud Services. By completing the required curriculum and training, as well as meeting required levels of sales and service standards set by Autodesk, CADsoft Consulting demonstrates it can be a key customer advisor to Autodesk BIM 360 customers.
"The CADsoft Consulting BIM 360 team offers proven expertise to the construction industry," says Scott Main, director, Worldwide BIM 360 Sales at Autodesk. "I am confident of CADsoft's strategic approach working with companies through all phases of the construction lifecycle with Autodesk BIM 360."
About CADsoft Consulting
CADsoft Consulting is a proven leader in the implementation of architectural, engineering, and construction design technologies and workflow. With over 24 years of industry, business, and technical experience, CADsoft Consulting's unique services are sought after by leading architectural firms, engineering companies, manufacturing and mining, government agencies, and academic institutions. CADsoft Consulting is an Autodesk Gold Partner with specializations in Building, Civil Infrastructure, Advanced MEP, Advanced Structure, Process & Power, and Government. In addition, CADsoft holds Autodesk Consulting and Product Support Specializations and is an Authorized Training Center (ATC). For more information visit http://www.cadsoft-consult.com.
Autodesk, the Autodesk logo, ATC and BIM 360 are registered trademarks or trademarks of Autodesk, Inc., and/or its subsidiaries and/or affiliates in the USA and/or other countries.