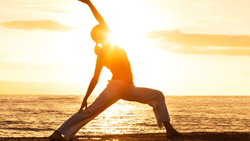 The Solar Body exercises helps me to feel the sensations in my body without being distracted by busy thoughts.
(PRWEB) October 09, 2014
ChangeYourEnergy.com, a meditation and wellness lifestyle website is kicking off their 21-Day Solar Body Challenge for activating the body's innate healing abilities. It is an exercise plan that is powerful and transformative, yet fun and easy.
The challenge, which starts on October 10, 2014, is to practice three exercises— designed to kindle a state of the "Solar Body," to awaken a person's innate self-healer— for at least ten minutes each a day for 21 days. A Solar Body is someone that has recovered his or her innate, natural healing power by maintaining a healthy body temperature through self-created life force.
The three super simple exercises are Plate Balancing,Toe Tapping and Brain Wave Vibration.
CYE.com selected these three exercises because they are stellar for activating the Solar Body and facilitating the natural process of healing. One avid Solar Body says, "The Solar Body exercises helps me to feel the sensations in my body without being distracted by busy thoughts."
Plate Balancing helps the mind to focus, realigns joints and muscles, helps warm up the body and burn fat fast. Toe Tapping reduces fatigue, is very relaxing and improves circulation. Brain Wave Vibration helps the body move toward its own internal, natural healing rhythms.
Participants can post their videos, photos or stories about their Solar Body experience on the ChangeYourEnergy Facebook page and receive an exclusive meditation mp3 download narrated by Rebecca Tinkle, author of the new spiritual adventure novel "The Secret of Mago Castle."
CYE will send the download link to everyone who participated in sharing their Solar Body Training experiences on the CYE FB page at the end of the event on October 30th.
About ChangeYourEnergy.com:
ChangeYourEnergy.com is a wellness lifestyle resource based on energy philosophy and the teachings of Ilchi Lee, a meditation and brain education leader. Changeyourenergy.com offers accessible, around the clock guidance, inspiration and practical online training to enable people to realize and activate their full human potential. The site offers lifestyle tips, health and wellness articles, exclusive seminars and personal development coaching.