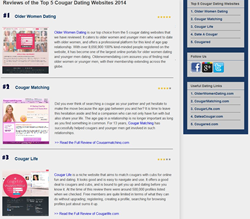 (PRWEB) October 09, 2014
In its relentless efforts to make cougar dating easier and more enjoyable, Cougardating.singles has just added a new feature named "Dating Helper" to its website. With this new feature, all visitors to Cougardating.singles will now have unrestricted access to useful tips relating to dating a cougar. This website is a distinguished review platform that compares the five most popular dating services for cougars based on the most important parameters relating to user experience.
The idea of dating cougars has continuously been gaining popularity over the years. This growing trend is reflected by the groundbreaking response received by the American Televisions' popular situation comedy series titled Cougar Town. As a result of this changing social scenario, a number of sites have now started offering dating service for the cougars. However, finding the best dating site has always been a long and difficult process. Cougardating.singles takes pain out of this process by offering genuine customer reviews for the most acclaimed dating sites for the cougars. The website has already helped hundreds of people find their perfect cougar partner for dating.
Cougardating.singles recommends Older Women Dating as the best dating service provider for cougars at present. Cougar Matching is another cougar dating site that has received top reviews from the dating experts at Cougardating.singles. Talking about the inclusion of their new feature, a senior official from Cougardating.singles said, "We are always trying to work out new features to make cougar dating easy, safe, and more enjoyable. Our Dating Helper feature will help you find out everything that you ever wanted to know about cougar dating."
Unlike young women, cougars are older women that have already been through many ups and downs in their life. As a result, the emotional needs and desires of these women are completely different from their younger counterparts. In many instances, a high disparity in age can become a serious constraint for successful dating. As these women are completely different from others, it makes a lot of sense to know their specific characteristics before deciding to date a cougar. This is where the new "Dating Helper" feature on Cougardating.singles can make a huge difference. This new feature is now offering highly efficient dating tips to help visitors build successful dating relationships with cougars.
Within a brief period since the addition of this new feature, many younger men looking to date cougars have benefited a great deal from the new "Dating Helper" feature from Cougardating.singles. Talking about the high quality tips offered by the new feature introduced by Cougardating.singles, one of highly satisfied users said, "I'm a shy person and not very good at dating. The Dating Helper feature on Cougardating.singles is very useful and proved to be a great help in my first date. I have already recommended this site to two of my friends."
About Cougardating.singles: Cougardating.singles is a review platform that reviews the best cougar dating websites on the web. This review website compares the top cougar dating websites based on their feature lists, membership fee and more. The website's objective is to help users know everything about these dating websites well before they register. Cougardating.singles also offers readers the most effective cougar dating advice and guidelines.