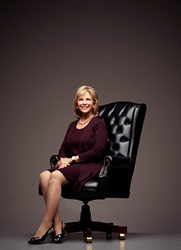 Patti Husic, #7 on American Banker's 25 Women to Watch, has outsized influence in Pennsylvania and is a leading advocate for advancing the careers of female bankers.
Harrisburg, Pennsylvania (PRWEB) October 09, 2014
Centric Bank President & CEO Patricia A. Husic has been selected by American Banker as one of The 25 Women to Watch in U.S. banking. Chosen from hundreds of banking executives, Husic ascended 10 spots in the national ranking to #7 and is celebrated by American Banker as Pennsylvania's "leading advocate for advancing the careers of female bankers."
"We congratulate Patti for earning her third designation as one of American Banker's 25 Women to Watch," said American Banker Magazine Executive Editor Bonnie McGeer. "She has outsized influence in Pennsylvania and possesses the skills and enthusiasm that the industry is eager to watch."
"It's an honor to join such esteemed leaders of the world's most powerful banks," says Patti. "After our inaugural Pennsylvania Bankers Association Women in Banking conference this year, many women wrote to me, sharing how much they valued my journey to CEO, and how it has re-energized their own aspirations. Thanks to the groundbreaking efforts of these industry pioneers, women at every career level can now see themselves in the role of CEO. What was once considered implausible is achievable in our lifetime."
In May 2014, Husic's concept for a Pennsylvania Bankers Association Women in Banking program became reality with a sold-out inaugural event in Hershey, designed to open doors for women in a banking career track and into executive leadership.
There are just 12 female bank CEOs out of 192 Pennsylvania-based bank holding companies, but Husic is optimistic about the influence forged by women leaders and their bright future in the industry.
Understanding the vast under-representation of women in bank leadership, Husic spearheaded the Women in Banking initiative to create opportunities for advocacy, mentoring, and sponsorships.
"Women must find their voice, set aspirational goals, make the ask, and establish relationships with our male counterparts. With more than 85% of the C-suites occupied by men, we won't reach higher gears in appreciable numbers unless we seek out MEN-tors. I look for ways to connect women with men who will help open doors for them, make introductions, and advance their careers," Husic says.
This summer, Patti completed her year as Chair of the Board for the Pennsylvania Bankers Association (PBA), a member-driven organization championing tens of thousands of bankers across the Commonwealth. She is only the third female in the Association's 119-year history and the first woman to serve as Chair since 1998.
"At Centric Bank, we don't have a women's initiative, we have a track record," says Husic. Based on her bank's own workforce dynamic, which is 75% female and 60% executive females, they continue to live this principle.
"One of the key premises behind the Most Powerful Women in Banking and Finance program is that the industry and the country would benefit if women were better represented in the senior-most roles in banking and finance," says McGeer. "These leaders all have remarkable success stories to tell that strongly support that premise."
The 25 Women to Watch includes both emerging female talent in banking and industry veterans who have taken on new roles within the past year. The complete rankings are featured in the October issue of American Banker Magazine.
All of this year's honorees will be celebrated at a dinner and awards ceremony today (October 9, 2014) at the Waldorf Astoria in New York City, hosted by American Banker and parent company SourceMedia. The evening event will explore the influence of women as they rise to key executive roles in the banking industry, especially the impact they have on the workplace and society as a whole.
About the Most Powerful Women in Banking and Finance
The Most Powerful Women in Banking and Finance recognizes the professional achievements, personal tenacity and overall influence of the industry's top-performing female executives. The annual program, now in its 12th year of recognizing high achieving women in the industry, encompasses four lists: the 25 Most Powerful Women in Banking™, the 25 Most Powerful Women in Finance, the 25 Women to Watch, and the Top Banking Teams. The rankings and details about the awards dinner are available in their entirety at AmericanBanker.com/women-in-banking.
About Centric Bank
A two-time Best Places to Work and Top 50 Fastest-Growing Companies for three consecutive years, Centric Bank is headquartered in south central Pennsylvania with assets of $320 million and remains the leader in organic loan growth in central Pennsylvania. A locally owned, locally loaned community bank, Centric provides highly competitive and pro-growth core financial services to businesses, professionals, individuals, and families.
Founded in February 2007, Pennsylvania-based Centric Bank has financial centers located in Harrisburg, Derry Township, Mechanicsburg, and Camp Hill.