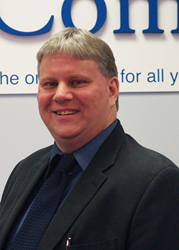 SEWP V is a significant milestone for us. This promises to be a game-changer in terms of visibility and volume.
Chicago, IL (PRWEB) October 13, 2014
Ace Technology Partners, one of the leading technology builders and resellers in the U.S., was just awarded a major NASA SEWP V contract. Company CEO John Samborski said, "Although the winners were just announced, we have been confident for several months that we would prevail and have scaled up our production facility. We are now more than ready, willing, and able to process contract orders."
Ace Technology Partners holds a Group C contract—which is earmarked for resellers that are small businesses. The effective ordering period for this contract, worth a total of $20 billion begins Nov. 1 and runs a total of 10 years; with a 5-year base period and a 5-year option period. SEWP V is the 5th iteration of the contract.
SEWP (Solutions for Enterprise-Wide Procurement), is a prized acquisition contract, awarded by NASA, but used by all federal agencies, for technology products and services. Contract holders are authorized to provide the full spectrum of technology products including desktops, workstations and servers; and associated services including installation, training, maintenance, and warranty protection.
The principal purpose of the SEWP V contracts is to provide state-of-the-art computer technologies, high-end scientific and engineering processing capabilities, network equipment, and peripherals.
Only a fraction of the SEWP proposals that NASA received were ultimately selected; largely based on factors such as experience, a proven track record working with the federal government, product quality, certification to specific ISO standards, and the ability to fulfill large orders.
Ace Technology Partners was awarded a similarly prestigious USAF NETCENTS 2 contract last year and affiliated Ace Computers holds a SEWP V Group A contract for systems, servers and computer-based systems.
"SEWP V is a significant milestone for us," Samborski said. "Although we have been fulfilling orders from federal agencies for over 20 years, this promises to be a game-changer in terms of visibility and volume."
For more information contact: Marc Fertik, Vice President mfertik(at)acetechpartners(dot)com.
Acknowledged as the best custom technology manufacturer and reseller, Ace Technology Partners is a Woman-Owned Small Business operating in both the public sector and commercial sector. Its channel partners include Intel, Supermicro, NVIDIA, Mellanox and Samsung among others. The company has been an industry leader since 1983. In addition to some of the finest academic institutions in the U.S., long-term clients include the U.S. Department of Energy and the U.S. Department of Defense. Its principal, recognized industry expert John Samborski, is an alumnus of Intel's prestigious board of advisors. In addition to its Greater Chicago headquarters, Ace Technology Partners has locations in New Jersey, Pennsylvania and Colorado. To contact Ace Technology Partners, call 1-877-223-2667 or 1-847-952-6900 or visit http://www.acetechpartners.com.
###
For media inquiries, contact Jeanna Van Rensselar at Smart PR Communications;
630-363-8081; jeanna(at)smartprcommunications(dot)com.