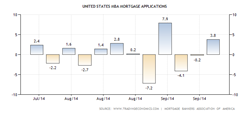 mortgage rates dropped today, which is great for prospective home buyers.
Chicago, IL (PRWEB) October 08, 2014
Peoples Home Equity was pleased to hear two things today. First, that mortgage applications rose nationally for the week ending on October 3rd, second that the Federal Reserve intends not to raise interest rates any time soon.
As reported by The Mortgage Bankers Association (MBA), mortgage applications rose 3.8% on a seasonally adjusted basis for the week ending on October 3rd. For the second consecutive week the "share of mortgage activity remained unchanged at 56 percent." A positive for borrowers, "the average contract interest rate for 30-year fixed-rate mortgages with conforming loan balances ($417,000 or less) decreased to 4.30 percent from 4.33 percent, with points decreasing to 0.19 from 0.31 (including the origination fee) for 80 percent loan-to-value ratio (LTV) loans." The average contract rate for 30-year jumbo loans also decreased from to 4.21% from 4.28% but points increased to 0.29 from 0.15. Lenders like Peoples Home Equity had their expectations low regarding this mortgage application report. Thus, a rise was received with great enthusiasm among lenders.
Apart from the MBA report, an event more important event occurred today. The Federal Reserve's September minutes were released today, October 8th, showing that the health of the economy remains a concern. In fact the Fed is so concern that it intends to keep interest rates low for a "considerable time after the asset purchase program ends." The asset repurchase program (otherwise known as quantitative easing) is the program that the Fed has been running for a number of years to intentionally keep interest rates low. The market was expecting an interest rate hike at the end of October. However, now that the Federal Reserve has reassured Americans that this is not the case, mortgage rates dropped today, which is great for prospective home buyers.
A continuation of low interest rates translates to continued low mortgage rates. Peoples Home Equity encourages those thinking to purchase a home this winter to take advantage of any price declines in housing and borrow while rates remain low.
Contact a Peoples Home Equity loan officer today at: 262-563-4026