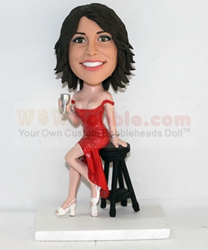 (PRWEB) October 09, 2014
Recently, WowBobble.com, an outstanding company in the figurine industry, has added a new range of funny bobbleheads to its product line. These new items are well created by the company's top experts; they are wonderful custom Christmas gifts for friends and families. Moreover, the company is now offering big savings for new and old customers. All people can get a $10 discount coupon (coupon code: 10USDOFF) on its website.
WowBobble.com is now providing more than 200 different kinds of special items for people from around the world. Among all the new products, Elsa Bobbleheads are the most popular. A lot of clients think that the company's Elsa Bobbleheads are great gifts for daughters or girlfriends.
True enough, WowBobble.com puts much emphasis on product quality. All its interesting products are made with high quality materials; they are promised to be delicately made. As it is known to all, a nice gift is of great importance in big festivals. This is why WowBobble.com strives to make the best figurines for the international clients.
"We are pleased to announce the new products and launch the big sale for the coming Christmas," the company's chief executive officer says, "We have been working in the industry for a long time. All our workers have a vast knowledge of product design and customer needs."
About WowBobble.com
WowBobble.com is a professional manufacturer and retailer of interesting bobbleheads. The company is provided worldwide customers with a huge selection of funny items, including wedding bobblehead cake toppers, wedding bobblehead cake toppers, bridesmaid bobbleheads, fully customized bobbleheads and so on. The company wants to offer all kinds of great bobbleheads for new and old clients.
For more details about its new items, customers can visit: http://www.wowbobble.com/.