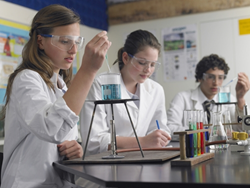 If possible, try to visit the institutions.
Chicago, IL (PRWEB) October 10, 2014
The Federal Savings Bank knows that as a parent, one does not move to a new home solely for better resale value and an updated kitchen and bathrooms. One wants to place their children in a nicer neighborhood, which includes some of the best schools in the state. But how does one determine whether the schools in an area they're considering are among the cream of the crop? Of course, listings may say properties are near good schools, but how can one be sure?
Check How Well the School is Performing Academically:
This should be the primary concern. Given the amount of testing students undergo these days, one wants to ensure the schools near their home will adequately prepare their kids for their state exams.
There are various sources one can view for information on an institution's academic performance. Some local papers publish this data, as well as certain online real estate marketplaces. GreatSchools.org is a site that's been around since 1998 and offers ratings and other information for schools across the country. Simply type in the location, find the schools on the list and review their credentials.
On September 11th, Redfin recently published a ranking of the top neighborhoods for highly ranked schools, which can be helpful in a search.
Check the Activities Offered:
Class and homework aren't the only ways schools enrich children. They also impart wisdom through extracurricular activities. The aforementioned resources also typically include details about which sports and clubs an institution offers.
Schools with more options - particularly ones that aren't offered at a lot of other schools - tend to be highly ranked. If, for instance, one finds a high school that is one out of a few in a state which offers lacrosse in addition to typical sports such as football and track, it may be one of the better choices. This consideration is also seen with language classes, as schools with a wider range of dialects tend to perform well.
Put Boots on the Ground:
Although one can research using online resources, it may be best to get a more familiar opinion of school districts near the homes that they're considering. Ask a real estate agent what residents say about the schools. If possible, try to visit the institutions. Regardless how well they perform and what languages and activities they offer, they won't be a good match if one doesn't believe they will be suitable for a kid's needs.
To learn about some low cost mortgage services that can help finance one's house once they find the perfect school(s), contact the Federal Savings Bank, a veteran owned bank.