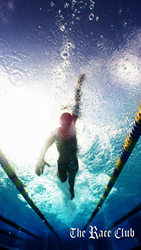 No one has gone to the expense and effort to create the most innovative swimming videos. We have.
Florida Keys, FL (PRWEB) October 14, 2014
Featuring 5 top swimmers from around the world, the premier swim club, The Race Club, announces the first new video will be released on November 5th. The five swimmers that are featured in the latest production are; Rebecca Soni, Roland Schoeman, Junya Koga, Zach Hayden and Lexie Kelly. These top athletes have a wide variety of accolades including Olympic Medals and World Record Titles.
"No one has gone to the expense and effort we have to create the most innovative swimming videos to date. Not to mention the talent on camera, these videos are something to see. The underwater footage and editing is simply stunning," stated Gary Hall Sr. owner of The Race Club and three-time Olympian. Gary Hall Sr. narrates the videos with his scientific approach to swimming fast.
With the use of super high speed cameras, the premier swim club is releasing videos about how to swim faster and improve technique no matter what level swimmer you are. The free webisodes will be released every two weeks for at least a year to come. The new web series will be available at http://www.theraceclub.com.
Throughout the years, The Race Club has coached swimmers of all levels so that they improve overall ability. The Race Club hosts five camps throughout the year in Islamorada, FL and 2 in Pacific Palisades, CA.
For more information about the athletes or The Race Club, please contact Amy Hall or visit http://www.theraceclub.com.
About The Race Club:
Established in 2003, The Race Club is directed and coached by Dr. Hall, a three-time Olympic medalist (1968, 1972, and 1976). Dr. Hall draws on his many years of being an ophthalmologist for his bio-mechanical approach to understanding and coaching the fundamentals of fast swimming techniques. The Race Club offers swim camps year round for swimmers to come and practice with the best to improve their technique. For more information please visit theraceclub.com or call 877-SWIM-RACE.