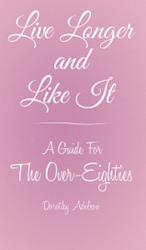 An exuberant exploration of life after 80.
NEW YORK CITY (PRWEB) October 09, 2014
The over-80 set is the fastest growing minority in America, and people may find themselves at a loss for what to do with their time after they've retired from a lifetime of work. Never fear; author Dorothy Adelson is here with a new book filled with helpful suggestions about the myriad of ways seniors can fill their newfound free time, with tips for the very active as well as the housebound. "Live Longer and Like It" is an exuberant exploration of life after 80 and all the glories it can contain if one has an open mind. Author Dorothy Adelson's "joie de vivre" leaps from the pages, and her firm but funny counsel is a perfect antidote to the attitude that the end of one's life can't be as rewarding as the beginning and the middle.
Adelson serves up ideas for activities from morning to night -- from friends and movies to elegant but easy recipes -- reminding people that life can be fulfilling and meaningful after 80. Among her suggestions are reading (a onetime English teacher, Adelson offers a list of classic books you may have missed when you were growing up) and volunteering (being a Pink Lady in a hospital or a guide in a museum, or counseling teenagers on grooming in preparation for a job interview, etc.). Adelson also offers practical information about such serious issues as living wills and health care proxies.
In addition, Adelson provides helpful guidance for seniors who are experiencing health problems. She shares her own experience with the traditional face of medicine as well as the more unconventional side, and she tells with humor the tale of the epic clash between the two.
Adelson received a bachelor's degree from Barnard College and a master's degree from Columbia University. A native New Yorker, she was a longtime journalist.
----------
For additional information, please visit http://www.livelongerandlikeit.com
Live Longer and Like It
Dorothy Adelson
Dog Ear Publishing
ISBN: 978-1-4575-2453-0 200 pages $13.95 US
Available at Ingram, Amazon.com, Barnes & Noble and fine bookstores everywhere.
About Dog Ear Publishing, LLC
Dog Ear Publishing offers completely customized self-publishing services for independent authors. We provide cost-effective, fast, and highly profitable services to publish and distribute independently published books. Our book publishing and distribution services reach worldwide. Dog Ear authors retain all rights and complete creative control throughout the entire self-publishing process. Self-publishing services are available globally at http://www.dogearpublishing.net and from our offices in Indianapolis.
Dog Ear Publishing – self-publishing that actually makes sense.