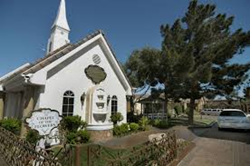 It's about helping couples who have waited a lifetime to make a commitment to the one they love with a romantic, memorable ceremony
Las Vegas, Nevada (PRWEB) October 09, 2014
To celebrate Marriage Equality, Chapel of the Flowers, located on the world-famous Las Vegas Strip for nearly six decades, will provide same-sex couples free wedding services on Sunday, October 19th, 2014. Couples can select from one of the many beautiful chapels to exchange vows.The complimentary wedding package includes the venue, a coordinator for the day of wedding, $50 credit towards flowers, nine 4x6 and two 8x10 photographs, wedding music, live online broadcasting and a unity candle.
The total value of donated weddings to same-sex couples by Chapel of the Flowers is estimated to approach $40,000.
The intimate and elegant Chapel of the Flowers projects that as many as 100 no-cost weddings will take place on Sunday, October 19th, starting at 7:00 am and continuing into the night based on demand, each at no charge to the couple in an unprecedented offering in Las Vegas or anywhere in the world.
Settings include the Victorian Chapel and Magnolia Chapel, each seating 20 – 30 guests, the Italian-influenced La Capella Chapel which seats up to 70 guests, and the stunning, one-of-a-kind Glass Gardens, which seats up to 70 guests. Guests unable to attend the couple's ceremony in Las Vegas will be invited to view the wedding via a live stream on the internet, also provided compliments of Chapel of the Flowers.
Couples are encouraged to contact Chapel of the Flowers and book as soon as possible, as reservations will be taken on a first come first served basis. A $50 deposit will be required to hold the wedding reservation, and will be refunded upon arrival.
"We are honored to be part of any wedding, and for almost sixty years we've celebrated with couples in love from all 50 states and around the world," said Nicole Robertson, Director of Operations, Chapel of the Flowers. "This historic wedding day on October 19th isn't about politics for Chapel of the Flowers. It's about helping couples who have waited a lifetime to make a commitment to the one they love with a romantic, memorable ceremony that they can proudly share with family and friends in a stunning and traditional setting."
To book one of the limited free weddings on Sunday, October 19th, 2014, couples should call Chapel of the Flowers at 702-735-4331, and speak to a professional wedding planner.
Visit http://www.littlechapel.com for more information about Chapel of the Flowers.
About Chapel of the Flowers
Founded in the 1950s, the Chapel of the Flowers is Las Vegas' highest rated and largest full-service wedding venue, providing traditional, modern and elegant Las Vegas weddings on the world-famous Las Vegas Strip. Nearly an acre of cobblestone-accented grounds and vibrant backdrops are designed to capture every picture-perfect moment of a Las Vegas wedding. Professional wedding planners ensure that every aspect of the wedding day is personal, easy and stress-free. Chapel of the Flowers' impeccable customer service assures the couple that all details of the wedding, including the ceremony, flowers, award-winning photography and reception venues will result in cherished memories for a lifetime.
Media Contact
Nicole Robertson
Director of Operations, Chapel of the Flowers
702-735-4331, ext 806 or 626-222-9388
Nicoloer(at)ittlechapel(dot)com