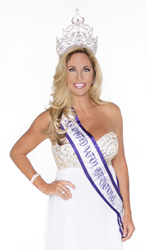 "All of us possess the strength within us to be leaders and mentors. I intend to continue spreading the message of personal empowerment to young women around the world as my career moves to the next level."
Oklahoma City, OK (PRWEB) October 09, 2014
Carla Gonzalez, seasoned pageantry winner and philanthropist, traveled to Montego Bay, Jamaica to bestow the honor of the Ms. United Nation International 2014-2015 crown to the next generation winner of the competition on September 27.
"Being crowned Ms.United Nation International 2013-2014 was certainly a shining achievement in my storied pageantry career, allowing me to take my philanthropy and stewardship to the next level. It is to my sincerest hope that this year's winner will find her own way to use the crown to take her ambitions to the next level as well, while giving back to her community."
Gonzalez's illustrious pageantry career includes several crowns. Her achievements include Ms. United Nation International 2013-14, Ms. America International 2012-2013, Ms. U.S. of America 2011-2012, Ms. Oklahoma United States 2009-2010 and Ms. Oklahoma Globe 2008-09.
Aside from her notoriety as a multi-time pageant winner, Gonzalez is a Clinical Social Worker, obtaining her masters degree from the University of Oklahoma. She has worked in Public Health for several years providing counseling services and has spent the last seven years going into schools to provide Bullying and Teen Dating Violence Prevention education. She adopted Anti-Bullying as her leading platform and later added Empowerment of Women, hoping to inspire young girls and women of all ages to always follow their dreams and never give up on achieving their goals, an example Gonzalez strives to live by as a role model.
Gonzalez has earned several certifications and has received multiple awards. She has a national certification in Bullying Prevention, is a certified Grief Recovery Specialist, a National Anger Management Specialist, a Prevention Relationship Enhancement facilitator, and is currently working to become a board certified Life Coach and a QPR Suicide Prevention Instructor. She was selected by the International Women's Leadership Association to receive the Woman of Outstanding Leadership award, and by the National Association of Professional Women to receive the Woman of the Year award for Outstanding Excellence and Dedication to her Profession and the Achievement of Women. Her most honorable award is from President Obama, the President's Volunteer Service award, presented by the Corporation for National Community Service, in recognition and appreciation of her commitment to strengthening the Nation and for making a difference through her volunteer service.
Reigning as Ms. United Nation International 2013-14, her year was busy not only supporting her platform but several other charities and organizations. She traveled extensively making appearances, attending red carpet events, speaking engagements, and did multiple interviews and photo shoots. A few highlights of her year include being an invited guest and speaking at the 3rd annual Amanda Network Anti-Bullying campaign and Annual Day of Awareness & Peace Rally in San Jose, CA. She attended the Mi Amor Gala Havana White Party & Charity event supporting the Safe Passage Organization, helping victims of domestic violence, she was a judge at the first annual Lotus Beauty Awards and was honored to present the prestigious Woman of the Year Award. An appearance was made at the British American Business Council event in Los Angeles where they hosted a World Cup celebration. She attended the ESPY'S After Party presented by Celebrity Sweat VIP Bash hosted by Evander Holyfield, four-time World Heavyweight Champion, which raised money for breast cancer awareness. She was a guest speaker at the Single Parent Support Network organization banquet and was honored to present an award to Jane Jayroe, Miss America 1967. She was a celebrity guest at the Kentucky Derby, Unbridled Eve Gala, supporting Blessings in a Backpack Charity, traveled to Illinois to emcee the Live Out Loud Charity fashion show which supports Suicide Prevention and was excited to visit NYC and judge the annual Mermaid Parade on Coney Island. She also had the honor of being the Grand Marshall in the Christmas Parade in her hometown. She appeared at several other events, spoke to civic groups, judged beauty pageants and attended a pre-Emmy's Gifting Suite event in Los Angeles, CA.
"All of us possess the strength within us to be leaders and mentors. I intend to continue spreading the message of personal empowerment to young women around the world as my career moves to the next level."
Gonzalez plans to continue pursuing a career in acting and modeling while also working towards her goal to start her own business, Reflections Counseling, Education & Wellness Center.
For more information about Carla Gonzalez, visit her website at http://www.CarlaDGonzalez.com. Twitter @CarlaGonzalezOK and Instagram CarlaJ0368.
And to see one of her recent interviews, visit http://www.LATFthemagazine.com.
For Media Inquiries, Interviews or Speaking Engagements, please contact YM & Associates PR | Marketing | Branding at YMoralesY@YM-PR.com or call 949-244-9769.
Yvette Morales
YM & Associates
PR | Marketing | Branding
California | New York
949.244.9769
YMoralesY(at)YM-PR(dot)com
@YMTheBevHillsPR
http://www.YM-PR.com