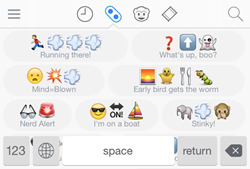 Emojiyo is a complete upgrade to the way we use emojis
New York, NY (PRWEB) October 09, 2014
Emojiyo announced today that its iOS8 keyboard app is now available in the App Store free for a limited time only. Created by two independent developers, the Emojiyo keyboard represents a significant upgrade to the built-in Emoji keyboard that now comes standard on iOS devices.
Designed with love by E.J. Mablekos and Jason Pearlman (both formerly of OMGPOP and Zynga New York), Emojiyo is optimized to work seamlessly as a keyboard via Apple's new iOS8 keyboard extensions. For those who have not yet upgraded, Emojiyo does work on iOS7, however iOS8 is required for it to fully function as a keyboard.
"Emojiyo is a complete upgrade to the way we use emojis," says Pearlman. "We designed it to be much more user friendly, going far beyond the built-in emoji keyboard."
With Emojiyo, users can easily and quickly find the perfect Emoji for any situation, with the ability to search by subject and save combinations they frequently use. Users can also save packs of Emojis that can be shared with friends.
Because of the attention paid to this previously neglected part of the phone, Emojiyo is naturally poised to become the new standard way of using Emoji on the iPhone and iPad.
Emojiyo is packed with features both emoji pros and new users will enjoy and appreciate, such as:
Combinations: create, share, and customize Emoji combinations
Favorites: quickly access the emojis you use most
Packs: create, arrange and share Emojis and combinations with your friends
Search: find Emojis faster than ever
Suggestions: type some text and get Emoji suggestions
Quick Scroll: All Emojis in one window with fast vertical scroll
About Emojiyo
Emojiyo is developed by E.J. Mablekos and Jason Pearlman, both formerly of OMGPOP and Zynga New York. Having worked on many hit mobile games and with a love of Emojis in their hearts they have put their expertise, skill, time, and energy into creating a truly first-class keyboard experience on iOS devices.
Related Links
http://youtu.be/AxZfGVoVMwM
https://itunes.apple.com/us/app/emojiyo-keyboard/id925765787
For more information & other inquiries
Jason Pearlman
jason(at)emojiyo(dot)com
http://emojiyo.com