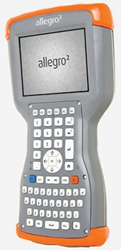 The Allegro 2 is Juniper Systems' next-generation handheld computer. Built from the ground up based on user feedback, it features superior computing functionality and the critical attributes needed for today's demanding field work.
Birmingham, UK (PRWEB UK) 13 October 2014
At last week's INTERGEO Conference in Berlin, Germany, Juniper Systems caused excitement with the announcement of its newest handheld rugged computer, Allegro 2™. The computer is the latest in the company's well-reputed Allegro product line, "with every bit of reliability but now with some major advancements", the company says.
According to Juniper Systems, the Allegro 2 was "designed for the data-intensive", with meticulous attention paid to the engineering and design of the handheld computer in order to maximise efficiency and precision, both of which are critically important aspects to high-volume data collection.
Among its improvements, the Allegro 2 now features a newly-designed keyboard in both QWERTY and numeric layout, with large, glove-friendly buttons for rapid data collection, and non-visual data collection when necessary. The new handheld features a custom Sun-to-Shade™ display which is 20% larger than the previous Allegro computer, and which offers excellent visibility in any lighting conditions.
The Allegro 2 is powered by Juniper Systems' new, Overtime Technology™ battery, providing an amazing 20+ hours of runtime that makes available extra security for long use in between charges. The touchscreen now utilises capacitive technology, providing excellent durability as well as crystal clear imagery and greater sensitivity to touch.
In addition, the rugged computer features significantly enhanced GNSS (geospatial, sat nav) performance, extended wireless Bluetooth® range, camera and video options, and a more powerful processor. All of this combines to make the Allegro 2 an ideal tool for high-volume data collection in the field.
"The Allegro 2 is our next-generation product, and it includes all of the latest enhancements available in its sister product, the Archer 2™", said Simon Bowe, general manager of Juniper Systems Limited in Birmingham, UK. "The Allegro 2 was built from the ground up, based on user feedback regarding the jobs that need to be done in the field every day. Whether the customer is grading lumber in a log scaling yard, running a robotic total station, or performing a close-interval pipeline survey, the Allegro 2 is the best solution for field computing today".
The Allegro 2 is scheduled to begin shipping in November. To learn more or to request a quote, please visit the Juniper Systems website at http://www.junipersys.com/allegro2.
About Juniper Systems
Based in Logan, UT, USA, and Birmingham, UK, Juniper Systems designs and manufactures rugged handheld computers and provides field data collection solutions for use in extreme environments. Since 1993, Juniper Systems has provided innovative mobile technology to the geomatics, natural resources, utilities/public services, agriculture, industrial, and military markets. For more information on Juniper Systems products, please visit http://www.junipersys.com.
###