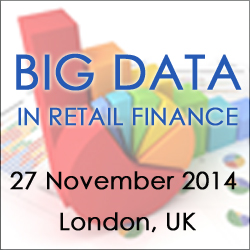 (PRWEB UK) 9 October 2014
Royal & Sun Alliance is one of the world's leading multinational insurance groups, servicing over 17 million customers in 140 countries (RSA, 2014). Through a tight operational grip, strong financial management and a diverse portfolio they aim to deliver a sustainable and profitable performance.
SMi is proud to have Bob Skerrett, UK Telematics Director of Royal & Sun Alliance giving an exclusive address at the 2nd annual Big Data in Retail Financial Services conference taking place on 27 November 2014 in London.
His speech will highlight how to apply telematics data in general insurance by delivering value to the customer and insurer from large amounts of behavioural and location data. He will also discuss how to introduce telematics into risk selection, pricing and claims as well as advise on how to overcome any challenges.
Why you should attend:

New for 2014 - Profiling your customer - find out how to really get to know your clients
Understand privacy issues and how to implement the best practice to mitigate the risks
Learn how to use your data more effectively in key decision making processes
Analyse the newest tools for implementing robust big data processes and technologies
2014 Key speakers Include:
Alan Grogan, Chief Analytics Officer, Royal Bank of Scotland
Bob Skerett, UK Telematics Director, Royal & Sun Alliance
Orlando Machado, Head of Customer Insight and Engagement, Moneysupermarket
Sergio Vieira, Director of Customer Insights & Interaction, Lloyds Bank Plc
Alastair Barter, Senior Policy Officer, Information Commisioner's Office
Oliver Werneyer, VP, Data Distribution Leader, Swiss Re
Professor Mark Witehorn, Chair of Analytics, School of Computing, University of Dundee
Max Hunter, Senior Business Consultant, Intelligent Shopper Solutions, Aimia
Darren Hodder, Director, Fraud Consulting Ltd.
Register now and gain the unique opportunity to meet with industry experts
For more information please visit http://www.smi-online.co.uk/2014bigdata19.asp
To register please contact Dayo Adejuwon on +44 (0) 207 827 6070 or email dadejuwon(at)smi-online.co(dot)uk
Group booking discounts available.