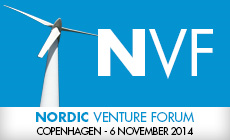 Copenhagen, Denmark & Brussels, Belgium (PRWEB UK) 9 October 2014
Europe Unlimited will be hosting the 12th edition of the Nordic Venture Forum on November 6th, 2013 in Copenhagen, Denmark, bringing together international investors and entrepreneurs from Nordic region to discuss topics from ICT, on-line mobile, Cleantech, LifeScience, Medtech and Food. Application is open to all companies coming from Denmark, Sweden, Norway, Finland, Estonia, Latvia and Lithuania, seeking growth funding in the next 24 months.
Rewards for selected companies
Applying companies will be reviewed by the Selection committee, and the most promising 50 companies will be selected to present at the forum. Each company will have the chance to present their business plans and answer questions from Venture Capital and Corporate investors, Business Angels and relevant key industry players. In addition, they will benefit from networking opportunities, local and international media exposure and potential opportunities to secure funding. The best presenters (top 25%) will be awarded and get a direct access to the European Venture Contest Grand Finale, the European Venture Summit (http://www.e-unlimited.com/evs) in Düsseldorf in December 2014.
Registration:
If you are interested in attending this event, please contact Jitske van Os at Jitske(at)e-unlimited(dot)com (direct phone number +32 2643 36 92) or register for free directly on the website(http://e-unlimited.com/register2/0-register.aspx?events_id=600). Registration deadline is October 12, 2014.
About Europe Unlimited
Founded in 1998, Europe Unlimited is a private Belgium-based champion in entrepreneurship support. Europe Unlimited is the organization behind the International Venture Club, a global collaborative network of independent, corporate and institutional investors; the TechTour, Europe's leading platform for growth stage entrepreneurs and investors; and several other pan-European initiatives in collaboration with regional and national development bodies and the European Commission.