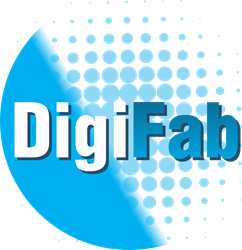 We're thrilled to bring together such an impressive group of thought-leaders in Digital Fabrication & 3D Printing! Mike Adelstein, CEO Potomac Photonics, Inc.
Baltimore, MD (PRWEB) October 10, 2014
The interactive DigiFabCon will come to the Maritime Conference Center in Baltimore, MD on November 17, 2014 to explore the impact 3D Printing and other digital fabrication technologies are having on innovation, education, manufacturing, startups, job creation, the arts, community building, medicine, job training…in fact, life as we know it.
Partially underwritten by the Deutsch Foundation, DigiFabCon is a project of the Maryland local chapter of SME [the Society of Manufacturing Engineers], and the Fab Lab Hub in association with the Fab Foundation and the MIT International Fab Lab Network. In a full, day-long program attendees will experience dialogue with industry leaders, interactive presentations & demonstrations, panel discussions, and live examples of putting digital fabrication to work. The result is a broad exploration of how 3D Printing and other Digital Fabrication technologies are impacting society as a whole.
The program features inspiring projects from the world, the country, the State of Maryland, and the City of Baltimore described by the thought-leaders who have instituted best practices in their fields. Potomac Photonics, a micro Digital Fabrication contract services provider based at bwtech@UMBC, is serving as the Program Chair.
Hugh Evans, VP, Corporate Development & Ventures at 3D Systems will deliver a keynote on the areas where 3D Printing is Manufacturing the Future, and Sherry Lassiter, Director of the Fab Foundation will discuss cool projects from the more than 400 Fab Labs in the MIT International worldwide network. Blair Evans, Executive Director of Incite Focus in Detroit, will give concrete examples of projects in their Fab Labs that are helping inner city youth while re-building communities.
A general session on design will follow that includes demonstrations of 3D Scanning by Michael Raphael, CEO of Direct Dimensions in Baltimore, software from Marie PLANCHARD, Director of Education & Community at SOLIDWORKS, and Dr. David R. Schneider, Systems Engineering, Cornell University & the Intel-Cornell Cup will be speaking on "Utilizing Digital Fabrication to Fabricate Better Designers".
After lunch which is included in the registration fee, Roger Kilmer, Chief Manufacturing Officer for NIST, will lead a track on fabrication, while Caroline McEnnis, of TIES in Baltimore, will delve into a session on education, both formal and informal.
Speakers in the fabrication track include:

Creating the Factory of the Future
Kegan Schouwenberg Founder, SOLS and Former Director of Engineering and Operations, Shapeways

Co-creation in the Digital Fabrication World
Justin Fishkin, Chief Strategy Officer, Local Motors

Dr. Jesse Placone Fiscell School of Biotechnology University of MD, College Park

The Critical Role of Measurements and Standards to Advance Additive Manufacturing
Kevin Jurrens Deputy Chief, Intelligent Systems Division Engineering Laboratory National Institute of Standards and Technology U.S. Department of Commerce

Distributed Manufacturing Models
Sallye Coyle Director Community Outreach, ShopBot Tools

Adding 3D Printing to the Factory ToolKit
Mike Adelstein President and CEO, Potomac Photonics, Inc.
Education track speakers presenting Ignite Talks and participating in a Town Meeting include:
Ignite Talk Presenters

Andrew Coy, Executive Director, Digital Harbor Foundation, Baltimore
Todd Keruskin, Assistant Superintendent, Elizabeth Forward School District, Pennsylvania
Tom Burkett, Baltimore Under Ground Science Space
Nick DiGorgio, PK-8 STEM Initiative, Primary Leand STEM Practitioner, Cleveland Metropolitan School District, Ohio
Moira Gannon Denson ASID, IDEC, LEED Ap, Assistant Professor, Interior Design, Marymount University, Baltimore, MD
Town Hall Participants

Jan Morrison, President and CEO, Teaching Institute for Excellence in STEM, Baltimore
Tom Singer, Professor, Mechanical Engineering Technology, PI, National Science Foundation STEM Guitar Project, Sinclair Community College Fab Lab, Dayton
Randy Hulke, MBA, Executive Director, Applied Research and Technology Transfer and Executive Director, University of Wisconsin – Stout Discovery Center
Rabiah Mayas, Director of Science and Integrated Studies, Wanger Family Fab Lab, Museum of Science and Industry, Chicago
Sherry Lassiter, Director, Fab Foundation and Program Manager, MIT Center for Bits and Atoms
The expo will have live demonstrations using a variety of digital fabrication tools including laser cutting, laser marking, CNC milling, and 3D Printing. Badges for attendees are being designed by a Fab Lab and there will be a demonstration of how the keepsake items were fabricated.
A group of Supporting Organizations including educational institutions, government agencies and businesses are working with the Deutsch Foundation to help garner support and raise funds from underwriters in order to keep registration fees to a minimum. For more information, go to http://www.digifabcon.org or to participate as a supporting organization or underwriter please email service(at)digifabcon(dot)org.