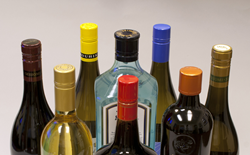 This elegant solution perfectly illustrates Zalkin's leadership on many different levels of innovation.--John Artman, Fowler VP Sales and Marketing
Athens, Ga. (PRWEB) October 09, 2014
Fowler Products, powered by Pro Mach, will introduce at Pack Expo 2014 the Zalkin VS110 – a next generation two-in-one capping head for premium StelVin Lux aluminum closures. The company is also showcasing an 800-per-minute 30-head turret for applying plastic screw caps, a six-turret machine for applying aluminum roll-on closures in the wine industry, and a number of other cap handling and conveying solutions. (Fowler Products Pack Expo Booth # N-5306).
The new Zalkin VS110 screw and seal capping head is a two-in-one solution that lowers capital investment. This single-turret machine does the work of twin turrets or two separate machines and consequently conserves valuable floor space. The new VS110 offers design advancements that allow a more sophisticated hysteresis magnetic clutch to be employed rather than a simple opposing magnet clutch. The hysteresis clutch provides smooth torque and quick tooless adjustment of torque. The VS110 also features a more robust construction than previous generation solutions.
"While premium StelVin Lux aluminum caps represent a small segment of the total closure marketplace, we are making the VS110 the centerpiece of our Pack Expo booth to stimulate discussions about innovation and innovation's impact on operations," said John Artman, Vice President of Sales and Marketing for Fowler Products. "This elegant solution perfectly illustrates Zalkin's leadership on many different levels of innovation."
The 30-head turret at the booth provides a case in point for robust, reliable 800-per-minute continuous thread screw cap application. This turret runs many varieties of screw caps and is used in a broad range of industries. Machines with similar turrets are available at speeds up to 1200 bottles per minute. Magnetic clutch high-speed capping heads provide for repeatable and reliable cap application torque. Rugged construction ensures long lasting performance. These turrets can accommodate a variety of bottle types, including glass, PET, polypropylene, and HDPE. This turret comes with a settable top load and positive gripping cap chucks.
 
The six-head machine for ROPP capping demonstrates the expertise of Fowler Products and Zalkin in this technology. In August, for example, Fowler hosted the second biennial Application Fundamentals for Aluminum Closures (AFAC) conference in Athens, Ga. The purpose of the two-day event, and for bringing a ROPP machine to Pack Expo, is to promote best practices and to help extend application expertise for these premium caps, which are growing in popularity in the wine and spirits industries. The compact waterfall sorter and air conveying system at the booth were designed and manufactured by Fowler to provide innovative solutions for closure sorting and conveying that provide operational flexibility and conserve floor space.
For more information about Fowler/Zalkin high-speed capping machinery and Fowler cap sorting and feeding systems, call 877-549-3301, and visit the Fowler Products website, http://www.FowlerProducts.com.
About Fowler Products
Fowler Products manufactures Fowler/Zalkin high-speed capping machinery and Fowler cap sorting and feeding systems. Fowler's quality equipment serves the beverage, food, pharmaceutical, chemical, personal care, household goods, and distilled spirits industries. The company is headquartered in Athens, Georgia.
About Pro Mach
Pro Mach is a leading provider of integrated packaging and processing products and solutions for food, beverage, consumer goods, pharmaceutical, and other diverse companies. Through its brands, Pro Mach provides product packaging and processing equipment, PMMI certified training, installation, parts, and service in Bottling & Capping, Primary Packaging, Flexible Packaging, Material Handling, Identification & Tracking, and End-of-Line Packaging.
Pro Mach has a diverse customer base, from Fortune 500 companies to smaller, privately-held businesses worldwide, which depend on reliable, flexible, technologically advanced equipment and integrated solution sets. Pro Mach is headquartered near Cincinnati, Ohio, with manufacturing facilities and offices throughout the United States, Canada, and Europe. For more information about Pro Mach, visit http://www.ProMachInc.com.