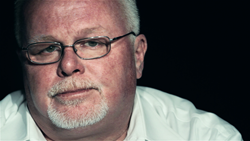 "I tell people all the time, and this is the truth: if it can happen to me, it can happen to anyone." - Kirk Bloodsworth
Boise, Idaho (PRWEB) October 11, 2014
"Bloodsworth - An Innocent Man" recounts the remarkable true story of Kirk Noble Bloodsworth who was wrongfully convicted and sentenced to death in 1985 for a murder he did not commit. (Case # CR-3138 Towson, MD State of Maryland vs. Kirk Noble Bloodsworth) Later, Kirk became the first death row inmate in the United States to be exonerated by DNA evidence. Boise filmmaker Gregory Bayne recently launched a fundraising campaign online and is seeking pledges to complete the post-production of the film about Kirk, who spent nine years in prison before a 1993 DNA test proved his innocence.
"Kirk's story is one that begs to be told," Bayne said. "It illustrates perfectly how innocent people can be convicted and sentenced to death in this country and the lasting trauma these incarcerations leave, even after exoneration."
Bayne, founder of the LovelyMachine production company, has been in production on "Bloodsworth - An Innocent Man" since April 2011, filming multiple interviews with Kirk and traveling with him extensively. This included capturing Bloodsworth's successful effort to repeal the death penalty in Maryland in 2013. Once the film is completed, Kirk Bloodsworth hopes it can become "a standard bearer for what it's like to be wrongfully convicted in the United States."
Weaving together Kirk's own compelling re-telling of his ordeal, archival footage, and animated sequences based on Kirk's visceral memories,"Bloodsworth - An Innocent Man" offers an intimate glimpse into what it is to wake to a living nightmare: to be an innocent man caught in a perfect storm of injustice. Ultimately, the film captures not only the horror of a wrongful conviction, but also the raw power of Kirk's indomitable human spirit. The end result illustrates how someone can survive, even thrive, in the face of incredible adversity. "Bloodsworth - An Innocent Man" brings a much needed human face to the issue of wrongful conviction, while exploring the divisiveness around the death penalty in the United States. As Bloodsworth reminds us in the final moments of the film: "I tell people all the time, and this is the truth: if it can happen to me, it can happen to anyone."
A sponsored project of the Independent Filmmaker Project in New York, the film has gained the support of the Idaho Commission on the Arts, Idaho State workforce development fund, and numerous individual donors over the past 3 years.
To complete post-production and host premiere screenings of the film with Kirk Bloodsworth in attendance in Baltimore, Maryland, and Boise, Idaho, Bayne has launched a funding campaign via Kickstarter.com – an online crowd-funding system that allows anyone to pledge support and make a contribution in return for rewards related to the film (including advance copies of the film, and advance tickets to its 2015 premieres). This project will only be funded if at least $65,000 is pledged by Monday, November 3, 10:00am EST. As of Friday morning (October 10, 2014) Bayne has secured nearly $20,000 in pledges from over 140 individuals backing the project.
"While it is important that we reach our funding goal, this campaign is not just about the money," explains Bayne. "It's about building community, around the film and Kirk's story. A successful campaign enables us to complete and release the film, and put it to work."
Learn more about the "Bloodsworth - An Innocent Man," Kickstarter campaign here.
(Full URL: https://www.kickstarter.com/projects/gregorybayne/bloodsworth-an-innocent-man-film-completion-and-pr)
ABOUT KIRK BLOODSWORTH
Kirk Bloodsworth is a death penalty consultant and public speaker. He is a member of Witness to Innocence, and has been an ardent supporter of the Innocence Protection Act (IPA) since its passage by Congress in February 2000. The IPA established the Kirk Bloodsworth Post-Conviction DNA Testing Program, a program that helps states defray the costs of post-conviction DNA testing. He previously served as a program officer for the Justice Project in Washington, DC., and is the subject of the book, Bloodsworth: the True Story of the First Death Row Inmate Exonerated by DNA by Tim Junkin, and of an upcoming documentary by Gregory Bayne, "Bloodsworth - An Innocent Man."
ABOUT GREGORY BAYNE
Gregory Bayne is a filmmaker living and working in Idaho. A veteran editor and cinematographer on numerous feature and documentary films, he has produced and directed two feature films since 2009: the narrative thriller "Person of Interest" and the intimate documentary "Jens Pulver: Driven." This widely praised, fully fan-funded feature about the legendary mixed martial arts champion was released by Gravitas Ventures/Warner Brothers in 2011. Bayne has been a guest speaker on the changing landscape of film and media at Columbia University, the Los Angeles Film Festival, the London Film School, and the Idaho Cineposium. He is a 2012 Sundance Lab Fellow, and was part of the IFP's 2014 inaugural RBC Emerging Web Storyteller program.
###