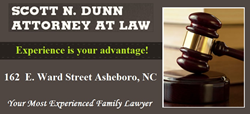 "Most of the clients I serve in traffic violations could have saved time and money by knowing these simple road laws." ~Scott N. Dunn
Asheboro, NC (PRWEB) October 09, 2014
Scott N. Dunn has handled hundreds of traffic violations for clients over the years. In order to better serve the Asheboro community, he has recently created a new traffic law guide for North Carolina. Simply knowing these facts can save people a lot of time and heartache.
In the State of North Carolina, there are various road laws such as the Fender Bender Law, the Move Over Law, the Quick Clearance Law and the NC Litter Law. Parking on highways is also prohibited.
The Fender Bender Law requires motorists to move their vehicles to the shoulder of the road following minor, non-injury crashes. Drivers could face a $110 fine and court costs if they do not move their vehicle.
Under the Move Over Law, drivers are required to move over one lane, if possible, or reduce speed for emergency vehicles. Violating this law could result in a $500 fine.
The Quick Clearance Law centers on getting vehicles out of the roadway. If a vehicle and its cargo pose a safety concern, law enforcement and NCDOT can move it by any means necessary.
Other road rules can be found in detail by visiting http://www.ncdot.gov/travel/roadrules.
If one is in a traffic crash involving death, personal injury, or property damage of $1,000 or more, it must be reported to the nearest law enforcement agency. Prosecution or driver license suspension may result, if one fails to report the accident.
Other rules of the road to keep in mind include:

Do not use a mobile telephone while driving.
For the State of North Carolina, motorists with a blood alcohol concentration at or greater than 0.08 percent can be charged with driving while impaired.
If caught speeding in any work zone, the penalty is $250 for speeding through a marked work zone.
For preparing for road travel in better safety, call 511, the Department of Transportation's free travel information line for real-time travel information.
Those who find themselves uncertain of what to do in a traffic violation should contact Scott N. Dunn to provide counsel by calling, (336) 257-1923. With over 23 years experience, Dunn has faithfully served Asheboro, Seagrove, Randleman, Archdale, Trinity, Liberty, Ramseur, Troy, North Carolina areas for family law, traffic violations, and criminal cases.
About the Company
Attorney Scott Dunn's office is located in Asheboro, North Carolina. Dunn has been serving Asheboro, Troy, and the surrounding areas for over 23 years. As an experienced attorney, Dunn has fought and won cases for his clients in all areas related to family law, child custody, child support modification, traffic violations, and criminal defense. Mr. Dunn also represents men and women in divorce cases. His practice also serves Spanish-speaking clients. Scott Dunn is Asheboro's chosen child custody attorney. He guides clients easily through the tedious process of child custody, helping clients understand and master family law. Scott Dunn Law Office represents local, regional, and national level clients, fully dedicated to providing the best outcome.