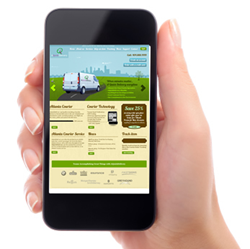 Atlanta, GA (PRWEB) October 10, 2014
AQuickDelivery, a recognized leader for same-day delivery, messenger and transportation services announces online tracking for same-day delivery orders. The tracking capabilities by the Atlanta courier markets its value-added services, improves service communications and improves the overall customer courier experience. AQuickDelivery strives to be the best choice in same-day delivery logistic solutions throughout the Atlanta and Metro-Atlanta area.
The courier's online tracking is easily accessible and user-friendly for customers to use via online. From the "Quick Quote" field on the home page of AQuickDelivery website, customers can input their order number for easy-to-use tracking. Online tracking provides the tracking details needed for same-day services, including tracking details, shipment activity and order information. The tracking details will give the customer the time the order was picked up and delivered. It also displays the time the order was placed, the ready time stated by the customer and the dispatch time.
With the shipment activity information, various events within the order, such as is it in transit or has it been delivered are available to the customer as well. Lastly, general order information is a quick reference to what was picked up, service type, weight, pieces, and a package delivery signature. For customer convenience, located below all the Quick Quote information, there is another window to perform any additional tracking any other customer shipments.
Quick Quotes are designed with the customer in mind, saving time and resources confirming their same-day delivery status. AQuickDelivery is available 24/7 to meet all of its' customers online tracking needs. With online tracking, AQuickDelivery proves itself to be one of the pioneering couriers in the industry.
AQuickDelivery is a premier same-day courier offering transportation and distribution services. From small packages to palletized freight, AQuickDelivery delivers fast! As a leader in the courier industry, their goal is to perform optimal courier logistic solutions and superior customer service every time. The courier service provides same-day delivery successfully for over 1,500 clients, including Fortune 500 companies.