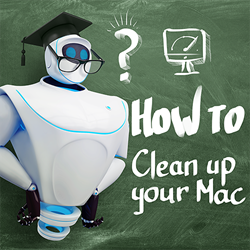 Sunnyvale, CA (PRWEB) October 13, 2014
First webinar entitled "How to Clean up Your Mac Effectively" will be hosted by MacKeeper's in-house Apple Certified experts who will provide step-by-step instructions on how to get rid of junk files, free up additional space on the hard drive space and increase system performance.
The free monthly webinars will cover a variety of topics ranging from cleaning tips to optimization hints. For both Mac novices and experienced users alike, each webinar's lessons will provide tangible insight that can be immediately applied to everyday usage. The webinars will be led by the Customers Support team lead at MacKeeper, with the goal of helping users develop the best skills for managing their computers at home.
"MacKeeper's webinar series is perfect for users across all levels of experience: new-to-Mac users and those using Macs in their everyday routine," says Alexander Kernishniuk, MacKeeper's CEO. "No matter your experience level, you'll learn something with an immediate practical application for your Mac, including what features and functions of our powerful app can do for you."
Each webinar will be taught by a subject matter expert and will allow attendees to ask questions and get feedback to maximize their learning experience. The Webinar Series scheduled topics are:
How to Clean up Your Mac
How to Protect Your Mac From Online and Offline Threats
Extra Optimization Hints for your Mac
The webinar series kicks off on October 16 with "How to Clean up Your Mac". To reserve your seat for this webinar, register for free at https://attendee.gotowebinar.com/register/565152636704080385. Note that the number of attendees for the webinar is limited to 500.
MacKeeper is a bundled software application that includes Human Assistance and other advanced customer support features. For more information on MacKeeper, please visit the official website: MacKeeper.com.