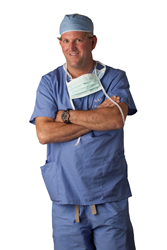 A professional athlete's muscle and physique is compromised when surgical downtime is needed, requiring extending time for re-strengthening.
Fort Lauderdale, Florida (PRWEB) October 10, 2014
Spine injuries that require surgical intervention will involve not just a visit to the surgical bay, but also post-op healing time followed by a physical therapy regimen suited to that individual's rehab needs. For the average person this can take several weeks. In the case of a professional athlete, this recovery time undoubtedly will take longer and for good reason, says Dr. Scott Katzman of Orthopedic and Laser Spine Surgery. Let's take for instance a herniated disc repair such as the one Tony Romo, quarterback for the Dallas Cowboys, underwent.
Typically, a patient will take 6-8 weeks to feel fully recovered. The initial recovery begins with general restrictions on things like bending, lifting, or twisting. When the surgeon feels it can be tolerated, a rehab course will begin focusing on the affected area of the back repair. However, for a professional athlete that needs to be in top physical condition, this means a much more extended and complex course of recovery. After the area of surgery has shown adequate healing, that athlete must then start the rebuild their overall strength due to their total muscle mass loss during the post-surgery recovery. Remember, in a non-injured state these guys work several hours and nearly every day building their skills and strength. Imagine being sidelined for several weeks by a surgery. Depending on the athlete and the requirements of his playing position, this will take several additional months of gradually increased physical training. Once the player is cleared by the NFL medical team to begin participating in team practices, athletic trainers in charge of the care for these athletes will follow a cautious protocol set by the NFL Physician's Society in the hopes to avoid a set back or recurrence and getting them back on the field for game days.
Even now as we watch Romo, who underwent that discectomy in Dec 2013, we read and hear fans and commentators using referenced play-by-play descriptions that include being "limited" by his back, showing "tightness", having "decreased arm strength" and falling short with a "low number of passes". These most recent observations are examples of that just how much of a hit an athlete's body takes during required medical downtime and the patience required to have your favorite athletic back to the powerhouse he was before his back injury.