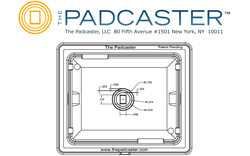 "To think anyone can do this so easily is amazing! All you need is an iPad, The Padcaster, a wi-fi network and a few great apps." Josh Apter of The Padcaster
New York, NY (PRWEB) October 10, 2014
The Padcaster®, the revolutionary iPad case that transforms Apple's tablet into an on-the-go video production studio, teamed up again with five-time Emmy Award®-winning journalist Michael Artsis of BeTerrific for a wireless multi-camera live broadcast of The Saks Fifth Avenue Style Games put on by the Philadelphia Eagles, their cheerleaders and Brad Smith's True Foundation. The first broadcast of its kind, The Padcaster's Josh Apter and Artsis created a completely live multi-camera production using only iPad Airs, iPad Minis, The Padcaster and the Switcher Pro App.
The team began with red carpet interviews in the front of the store, and followed the action with play-by-play coverage of the main event: a series of rapid-fire modeling contests starring some very style-conscious Eagles players in front of five judges and about 450 fans. Michael Artsis of BeTerrific hosted the event live and kept up with all the action, often running the length of the store just to keep pace! "This event was so exciting and truly groundbreaking. To be able to walk into a venue and move without the restrictions of cables or having to worry about tripping over people really allowed us to bring viewers into the action in a way never before possible. I'm thrilled with the results and excited for the future!" says Artsis.
Josh Apter of The Padcaster adds, "To think anyone can do this so easily is amazing. All you need is an iPad, The Padcaster, a wi-fi network and a few great apps – and no cables! It really puts the power in the people's hands and it's an honor to team up with Be Terrific and do it first. And let's not forget this was a great event that raised a ton of money and awareness for a great charity!"
The archived event can be seen here: https://www.youtube.com/watch?v=56dzmAvgcNs
Padcaster and BeTerrific taking NY Comic Con by Storm This Weekend!
This weekend at New York Comic Con, The Padcaster and BeTerrific will be broadcasting live from the show floor, bringing their cutting-edge technology to a crowd of over 140,000 attendees. Michael and the BeTerrific crew will stream live interviews and segments with Celebs, writers, illustrators, fans and industry insiders from Thursday to Sunday with viewership expected to surpass 1 million views! Tune in at http://beterrific.com/live.
Josh Apter and The Padcaster team are premiering their "GreenBooth" at the show, using the Padcaster to instantly throw Comic Con attendees into their choice of exciting action backgrounds. They'll also be talking to fans from the floor with their favorite Super-hero interviewer, "Padcaster Man."
Check out all the action at Booth 1032 (right next to Weta Workshop) and be sure to hashtag #greenbooth for the latest videos.
Padcaster Pricing and Availability
The Padcaster is compatible with iPad 2, iPad third and fourth generations, iPad Air and iPad mini. It is now available online for 149 USD (Original Padcaster) or 159 USD (Padcaster Air) and 99 UDS (Padcaster Mini) at http://thepadcaster.com/product-list/. The Padcaster can also be purchased in stores or online from a number of resellers, including Adorama, Tekserve, B&H, Videoguys and Safe Harbor.
About The Padcaster
The Padcaster transforms an iPad into an on-the-go production studio, providing an easy and professional way for users to create stunning videos on the iPad. Perfect for professional and amateur videographers alike, The Padcaster is an aluminum frame with a urethane insert that securely holds the iPad for a safe and solid feel. Threaded holes lining the edges of the frame allow filmmakers to attach external mics, lights and countless other accessories to enhance the finished product. A standard ¼-20 screw thread and locking-pin design centered on the bottom of The Padcaster lets users connect it to a professional tripod, monopod or shoulder mount for easy, smooth filming. Additional lenses can be attached via the Lenscaster, a separate accessory, to create a wider field of view or bring telephoto capabilities to the iPad's fixed lens.
The Padcaster's aluminum frame can also be used as a standalone DSLR cage. Filmmakers can rig a DSLR or other video camera into the cage, enabling them to attach numerous accessories to enhance their shoot.
About The Padcaster, LLC
Headquartered in New York's Flatiron District, The Padcaster LLC is an innovative startup aimed at developing tools for filmmakers and videographers of all stages of development and skill levels. Established in 2012, its flagship title product, the Padcaster, is a multifunctional iPad case that takes users from passive consumer to creative filmmaker. The Padcaster was made by and for videographers to fit the needs of just about any filmmaker working with the ever-expanding set of production tools and technology. Follow @thepadcaster on Twitter and Facebook. For more information, visit http://www.thepadcaster.com.
The Padcaster is a trademark of The Padcaster LLC. All other trademarks, registered trademarks and products mentioned herein belong to their respective owners.
Press Contacts
Josh Apter
The Padcaster
info(at)thepadcaster(dot)com
(p) 212.414.9570
Talia Simpson
The Padcaster
talia(at)thepadcaster(dot)com
(p) 212.414.9570
####