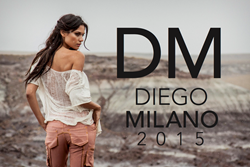 We are taking a quintessential American art form, denim, and pushing the boundaries.
Scottsdale, AZ (PRWEB) October 14, 2014
Route 66, Arizona - Creators from Diego Milano, Scottsdale based luxury denim, recently produced their 2015 'Tribe of Nomads' look book. Shot traveling down Route 66 and inside and around The Petrified Forest National Park, the new book transforms everyday denim wear. The explorative use of colors, textures, and designs, places their denim into a whole new category.
Founder and Creator, Chris Kay explains the inspiration behind the photo shoot saying "We are taking a quintessential American art form, denim, and pushing the boundaries. Why do jeans need to be blue and have 5 pockets anyway? We are from a different tribe. We use good old fashion American innovation, and Italian inspiration to create our denim revolution." The jeans are designed to be unlike any others, using distressed leather piping, pocket gussets, rare pin-tucking details, and hand-dyeing methods.
The Diego Milano 'Tribe of Nomads' crew drove Route 66 in Arizona shooting in many breathtaking locations. The Petrified Forest became the perfect backdrop for the high fashion luxury denim line. The forest perfectly highlighted unique details of the denim. Heavy rainfall during the photo shoot only augmented the intriguingly high-end qualities of the denim. The exceptional photos inspire the adventurous fans who are unafraid to join the revolution and become a member of the tribe.
The 2015 Diego Milano look book reveals an unexpected twist to classic American denim. Prices, sizing, and material details can also be found on our website: http://diegomilano.com/lookbook. For samples or inquires about featuring or selling our product please email laura(at)diegomilano(dot)com.
-MORE-
 
Laura Cook
PR for Diego Milano
laura(at)diegomilano(dot)com
805-234-4864
Diego Milano
7302 E. Helm Dr. #1002
Scottsdale, AZ. 85260
info(at)DiegoMilano(dot)com
Tel: 480-365-0335
To learn more about Diego Milano please visit http://www.diegomilano.com.
To see the look book, visit our website at http://diegomilano.com/lookbook/
###