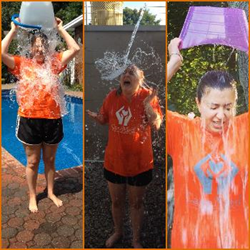 The fight against ALS is exactly the type of cause that inspired me to start the People Helping People Foundation
Lake Success, NY (PRWEB) October 09, 2014
According to the ALS Association, approximately 5,600 people in the United States are diagnosed with ALS every year. The life expectancy of a patient after diagnosis is only about two to five years. It affects individuals all over the world – there are no underlying ethnic, racial, or socioeconomic similarities to those afflicted.
Today, researchers have developed treatments and therapies that slow the progression of ALS, but there is no known cure, and the existing treatments are incredibly expensive – costing an average of $200,000 a year. Every 90 minutes, an American citizen is diagnosed with ALS, and every 90 minutes, an individual loses their battle against the disease.
In order to combat the crippling and devastating results of ALS, specialty pharmacy CareMed decided to join the Greater New York Chapter of the Walk to Defeat ALS in order to raise awareness and funds to support families struggling with ALS, and to support researching a cure.
CareMed President Nuaman Tyyeb explained, "I know firsthand the financial and emotional toll this horrible disease takes on victims and their families. My father passed away from ALS, and since his death I have made it a priority to support those who are battling this illness. It's inspiring to see so many individuals come out to walk and donate their time and money, and my hope is that through these efforts a cure will be found that ensures no one else ever has to suffer from ALS again."
Moby Kazmi, CareMed's CEO and the founder of MMK's People Helping People Foundation, expressed his sincere support for the fundraiser, saying, "The fight against ALS is exactly the type of cause that inspired me to start the People Helping People Foundation. I have always believed that through community efforts, not only can we find a cure for devastating diseases like ALS, but we can create a stronger society that is committed to supporting individuals and their families in times of need."
This year, Mr. Kazmi and Mr. Tyyeb generously tripled the donations of the CareMed staff. Through their participation in the Long Island Walk held last month, CareMed and MMK's People Helping People Foundation exceeded their initial goal of $2,500 – raising an incredible $10,885.
To lend your support to the victims of ALS and their families, please consider donating to Caremed's initiative through The ALS Association, or get involved in a walk in your area by starting your own team.
About CareMed
CareMed is an industry leader within the Specialty Pharmacy field. Their commitment to high-quality and efficient patient care is unparalleled. The company maintains dual accreditations from ACHC (The Accreditation Commission for Health Care) and URAC, which is the largest accrediting body for health care. CareMed offers 24/7/265 prescription services, remote consultations with certified pharmacists and nurses, comprehensive patience assistance programs, and disease-specific care management services. Connect with CareMed online at http://www.caremedps.com/, or on Facebook, Twitter, or LinkedIn.