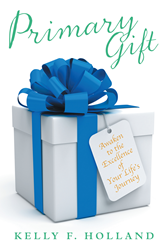 I learned to see the world through her eyes and discovered the genius within her.
TUSCON, Ariz. (PRWEB) October 11, 2014
There are more than 3.2 million people currently living in the U.S. afflicted with schizophrenia. Unfortunately many of these people will go undiagnosed and even those who receive treatment find it difficult to gain support from friends and family, as this disease remains greatly misunderstood.
Kelly F. Holland, as a young woman, did not understand her mother's schizophrenia. Ultimately her mother's illness left Holland abandoned as a child. Combined with her personal struggles with ADHD, the foster care system and years of drug use, Holland was headed down a dangerous path. Fortunately at age 26 she met an exemplary licensed mental health professional, who showed her the way, allowing Holland to become a medical professional as well as her mother's legal guardian and best friend.
"In my adult life I was reunited with my mother," Holland said. "When I realized she needed my assistance to survive, my heart would not let me turn away, so I sought guardianship of her. I learned to see the world through her eyes and discovered the genius within her."
Holland shares this inspirational story in her new book, "Primary Gift." Holland offers an enlightened perspective on schizophrenia and aims to open readers' minds to the profound wisdom that comes forth from life's journey. Her book also serves as a "thank you" to the psychologist who came forward in her life and guided her to what mattered most – a loving relationship with her self. In doing so, Holland was able to awaken to the excellence of her life's journey and love her mother once again.
"For the past 25 years I have worked with a psychologist who helped me discover the enormous power of a loving and stable relationship from which our greatest, most joyful life can evolve," Holland said.
"Primary Gift" encourages readers to utilize their most important tool, positive thought, in order to create their own best life. Holland illuminates the power of role models and how their greatness can allow us to access our own. Primarily she wants people to know that no matter their circumstances excellence still awaits them and any life they can dream, they can live.
"Primary Gift"
By: Kelly F. Holland
SC-ISBN: 978-1-4525-9416-3
SC-Retail price: $12.99
Available at barnesandnoble.com and amazon.com.
About the author
Kelly F. Holland works as a licensed physical therapist in Arizona and has earned diplomat credentials in mechanical diagnosis and therapy.
###
**FOR IMMEDIATE RELEASE**
EDITORS: For review copies or interview requests, contact:
Spencer Hotz | 317.602.7137| shotz(at)bohlsengroup(dot)com
(When requesting a review copy, please provide street address.)