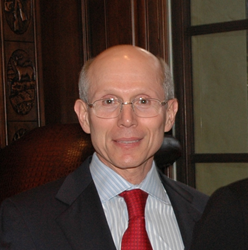 Keeping myself to high ethical standards has helped me achieve success.
MIAMI (PRWEB) October 11, 2014
With the popularity of movies like "The Wolf of Wall Street" and shows like "Madmen" the world has begun to think all people in big business are cutthroat and playing dirty to win. Author and business executive Neil Flanzraich stands to disagree.
"I have always been honest and open in all of my business endeavors," Flanzraich said. "Keeping myself accountable to a high ethical standard has helped me achieve success."
Flanzraich has turned his ethics and family values into a new action-adventure novel, "Geniuses," in the hopes of providing a passive and subtle way for young readers to pick up these traits. Not only does he exude these positive messages, Flanzraich has emphasized the power of the mind as the greatest aspect of his main characters.
Between his position as chairman and CEO of a biotech company, being a member of the boards of two New York Stock Exchange listed companies and continuing to act as an educator in the role of expert in-residence at his alma mater, Flanzraich has many skills to pass on to the next generation.
"Aesop had it right," Flanzraich said. "If you want kids of any age to learn a lesson, the best way to accomplish this is through a story."
"Geniuses"
By: Neil Flanzraich
SC-ISBN: 978-1-4918-4952-1
SC-Retail price: $23.95
Available at barnesandnoble.com and amazon.com.
About the author
Neil Flanzraich has a bachelor's and law degree from Harvard University. He still returns to the school regularly to help guide students in business and law toward their entrepreneurial goals. He works in biotech and science fields and incorporates these interests in his writing. Flanzraich currently resides with his wife in Florida.
###
**FOR IMMEDIATE RELEASE**
EDITORS: For review copies or interview requests, contact:
Spencer Hotz | 317.602.7137| shotz(at)bohlsengroup(dot)com
(When requesting a review copy, please provide street address.)