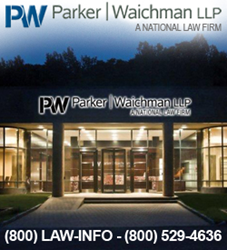 Port Washington, New York (PRWEB) October 09, 2014
Parker Waichman LLP, a national personal injury law firm that has spent many years fighting to ensure that the heroes of 9/11 are never forgotten, is reminding the public of an important deadline to register for the September 11th Victim Compensation Fund (VCF). According to a press release issued on October 7, 2014 by Congresswoman Carolyn Maloney and Congressman Jerrold Nadler, 9/11 rescue workers and survivors must register for the VCF by October 14, 2014. A press conference was held with first responders, labor leaders, community representatives, and advocates for 9/11 survivors to raise awareness of the deadline and emphasize the importance of registering before the deadline, the release states.
The VCF website notes that the technical deadline for these claimants is October 12, 2014. However, October 12, 2014 falls on a Sunday and Monday October 13, 2014 is a federal government holiday. Therefore, claimants must submit their online registration, or have their hard copy applications postmarked, by October 14, 2014.
The VCF provides compensation to September 11th first responders and survivors who became ill or injured as a result of the attacks. The Fund applies to the World Trade Center, as well as the Pentagon and the Shankesville, Pennsylvania crash sites. "We fought for over ten years to create the Victim Compensation Fund, but in just seven days many of these ill 9/11 responders and survivors who have cancer may miss the deadline to register," Congresswoman Carolyn Maloney said in the release. "If you have been diagnosed with a 9/11 covered cancer due to your exposure to toxins in the aftermath of the September 11 attacks, I urge you to visit VCF.gov immediately and determine if you should register to preserve your right to file a claim."
According to Parker Waichman LLP, registering for the VCF is crucial to ensuring the rights of 9/11 heroes and survivors diagnosed with a covered a Cancer. "By registering for the fund, 9/11 rescue and recovery workers that have since been diagnosed with one of the covered Cancers preserve their right to file a claim for compensation in the future," said Matthew J. McCauley, Senior Litigation Counsel at Parker Waichman LLP. "As a firm that has always fought for the rights of WTC heroes, we strongly encourage 9/11 victims to register before the deadline if they have developed cancer as a result of toxin exposure."
In a press release issued on September 17, 2014 by Senator Gillibrand and Congressional members Carolyn Maloney, Jerrold Nadler, and Peter King announced that a bill has been introduced to re-authorize the Zadroga Act. In addition to reopening the VCF in 2010, the Zadroga Act established the World Trade Center (WTC) Health Program to ensure medical treatment and monitoring. The WTC Health Program and VCF are due to expire in October 2015 and October 2016, respectively. By re-authorizing the Zadroga Act, these programs would remain open for an additional 25 years. Parker Waichman LLP applauds these efforts and fully supports reauthorizing the Zadroga Act.
Parker Waichman LLP, which worked alongside Ground Zero first responders and their advocates to ensure passage of the Zadroga Act, vows to continue its efforts to ensure these heroes receive all of the Zadroga Act compensation they need and deserve. If you or a loved one are eligible for compensation under the Zadroga Act, and would like assistance with your claim, please visit Parker Waichman's Zadroga Act claims page at yourlawyer.com or call 1-800-LAW-INFO (1-800-529-4636).