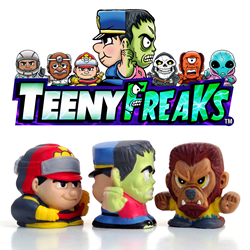 TeenyFreaks are highly-detailed collectible mini-figures with a "split personality".
Westlake, OH (PRWEB) October 14, 2014
Party Animal, Inc., the company that created the popular mini-collectible sports toy series TeenyMates, has expanded its "teeny" offerings with a new line of toy figures called TeenyFreaks. Just one inch tall, TeenyFreaks are highly-detailed collectible vinyl mini-figures with a "split personality". Each figure is double-sided, featuring a friendly neighborhood citizen on one side and a "freaky" alter-ego on the opposite side. Series 1 includes such figures as a zookeeper/werewolf called "ZooCreeper" and a Fireman/Grim Reaper called "FireFrighter".
Party Animal, Inc's TeenyMates line debuted in Fall, 2012 and remains a top-selling mini-collectible line in the sports market. The company hopes that TeenyFreaks expand on that success in the non-sports market. "TeenyMates have been a gigantic success for us," says Jim Cantrall, President and CEO of Party Animal, Inc. "We look forward to TeenyFreaks building on that success and expanding our presence in the mini-collectible market." Party Animal, Inc. is primarily known for its wide array of licensed sports products, and TeenyFreaks represents an expansion into the unlicensed toy market. "We have a lot of experience in licensed sports collectibles, but this is our first foray into creating an unlicensed brand of our own," explains Cantrall. "We are excited about all the potential opportunities this could bring."
TeenyFreaks are sold in blind foil bag packs, with two random figures and two puzzle pieces in each pack. The puzzle pieces form a double-sided 35-piece puzzle which features a play setting for the figures. Series 1 includes 12 standard figures, plus 4 hard-to-find rare figures. They are available in the checklane/trading card section at Target Stores nationwide this Halloween and holiday season.
###
Party Animal, Inc. is a leading manufacturer of premium quality licensed toys, flags and décor for the National Football League, Major League Baseball, the National Basketball Association, the National Hockey League, the U.S. Army and over 60 colleges and universities. From humble beginnings as a manufacturer of party signs (hence the name), Party Animal, Inc. has grown to currently offer over 1,800 unique products, now celebrating its 25th year in business.
For More Information:
Hattie Kotz
Marketing Coordinator
800-456-0145 ext. 118
kotzh@partyanimalinc.com